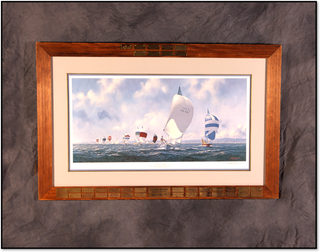 Presented in 1985 by the members of MORC Station 70, this trophy shall be awarded annually to one MORC and one J-24 skipper who beat the most competitors during the Regular Racing Season. The trophy is to be displayed in the Fishing Bay Yacht Club clubhouse with an appropriate plaque to be presented to the winners. The winners' names and yacht names are to be placed on the trophy for each year.
In 1995, the J-24's failed to maintain status as an Active Fleet and were deleted from consideration for this trophy. In 2000, the J-24's regained Active Fleet status and were reinstated as recipients of this trophy. In 2009, the J-24's were delegated to a Legacy Fleet and MORC was deleted from the Yacht Squadron list of offshore designated fleets, thereby making both ineligible recipients. The J-24's did not maintain Legacy Fleet status and lost this designation in 2010.
Any changes to this deed must have approval of MORC Station 70. If this is not possible, the FBYC Board of Trustees may make any change or reassignment they wish. After discussing changes with former MORC members, the Board approved awarding this trophy as of the 2010 racing season to a PHRF-C skipper, using the same rules for determining the recipient.
| | | | | |
| --- | --- | --- | --- | --- |
|   |   | MORC |   | J-24 |
| 1985 |   | Rush - Bob Kates |    | Nightmare - Brent Halsey, Jr. |
| 1986 |   | Thumper - Donald Landau |   | The Pearl - Harrison Hubard, Jr. |
| 1987 |   | Rush- Bob Kates |   | The Pearl - Harrison Hubard Jr. |
| 1988 |   | Short Circuit -William C. Spencer, II |   | Cheap Floozie David Lee/John Adair |
| 1989 |   | Brat - Roger French |   | Cheap Floozie David Lee/John Adair |
| 1990 |   | Short Circuit -William C. Spencer, II |   | Raider - David B. Train |
| 1991 |   | Rocky II - Donald Landau |   | Satisfaction - Will Crump |
| 1992 |   | Brat - Roger French |   | Basic Transportation -John Hawksworth |
| 1993 |   | Resurrection - William C. Spencer, II |   | Not Awarded |
| 1994 |   | Morningtide - R. Russell Collins |   | Not Awarded |
| 1995 |   | Insatiable - Michael W. Karn |   | Not Awarded |
| 1996 |   | Titillation - Paul Anderson |   | Not Awarded |
| 1997 |   | Titialation - Paul Anderson |   | Not Awarded |
| 1998 |   | Flexible Flyer - F. Case Whittemore |   | Not Awarded |
| 1999 |   | Insatiable - Michael W. Karn |   | Not Awarded |
| 2000 |   | Insatiable - Michael W. Karn |   | Kobyashi Maru -Clark Dennison/Chris Clough |
| 2001 |   | Insatiable - Michael W. Karn |   | Kobyashi Maru -Clark Dennison/Chris Clough |
| 2002 |   | Patriot F. Case Whittemore |   | Kobyashi Maru - Clark Dennison/Chris Clough |
| 2003 |   | Insatiable – Michael W. Karn |   | Thin Ice - Wm. C. Hope, III/Donald M. Landau |
| 2004 |   | Cefalu – Blackwell Nottingham |   | Thin Ice – William C. Hope, III |
| 2005 |   | Insatiable – Michael W. Karn |   | Mojo - Mark Wensell |
| 2006 |   | Not Awarded |   | Kobyanshi Maru - Clark Dennison/Scott Collins |
| 2007 |   | Not Awarded |   | Not Awarded |
| 2008 |   | Not Awarded |   | Not Awarded |
| 2009 |   | Not Awarded |   | Not Awarded |
| | | |
| --- | --- | --- |
|   |   | PHRF-C |
| 2010 |   | D. Bradford Miller |
| 2011 |   | The Prophet Syndicate |
| 2012 |   | The Prophet Syndicate |
| 2013 |   | Paul & Julie Ann Wash |
| 2014 |   | Paul & Julie Ann Wash |
| 2015 |   | Paul & Julie Ann Wash |
| 2016 |   | Paul & Julie Ann Wash |