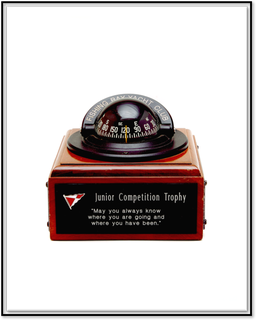 Presented in 1996 by Paul W. Howle, III, and L. Brooks Zerkel, Jr., as a perpetual trophy to be awarded annually to the Junior skipper or skippers (who must be members of the Yacht Club) of a yacht or yachts enrolled with the Yacht Club, who have most successfully represented the Yacht Club in sailboat racing events conducted by other yacht clubs or associations during the Regular Racing Season.
The trophy is intended to recognize unusual and outstanding efforts by Yacht Club Junior members, and the character of the event or events entered, the quality of the competition, the extent of the effort involved for the Yacht Club member and the participation of other Yacht Club members shall be considered as well as the member's performance in such event or events.
The selection shall be determined by the Commodore and Junior Activities Chairman. The Commodore may appoint a committee to determine the winner of the trophy.
A majority vote of the Fishing Bay Yacht Club Board of Trustees may alter the provisions of this deed, if in the future it is deemed necessary.
| | | |
| --- | --- | --- |
| 1996 |    | Charlie Wardwell |
| 1997 |   | Chris Hamilton, Charlie Wardwell, Addison Thompson |
| 1998 |   | Anthony Kupersmith |
| 1999 |   | Anthony Kupersmith |
| 2000 |   | Blake Kimbrough |
| 2001 |   | Meg Roberts |
| 2002 |   | Franny Kupersmith |
| 2003 |   | Alex O'Toole |
| 2004 |   | Quentin Jenkins |
| 2005 |   | Austin Powers |
| 2006 |   | Optimist Race Team - Madelain Alderman, Graeme Alderman, Benjamin Buhl, Alex Jacob, Erin Jacob, Austin Powers, Conrad Roos, Eric Roos |
| 2007 |   | Alex Jacob |
| 2008 |   | Kyle Swenson |
| 2009 |   | Kyle Swenson |
| 2010 |   | Austin Powers |
| 2011 |   | Hannah Steadman |
| 2012 |   | Jed Londrey |
| 2013 |   | Alexander Hanna |
| 2014 |   | Boyd Bragg |
| 2015 |   | Benton Amthor |
| 2016 |   | Thomas Sitzmann |
| 2017 |   | Bo Bragg & Aisling Sullivan |
| 2018 |   | Jordon Bendura |