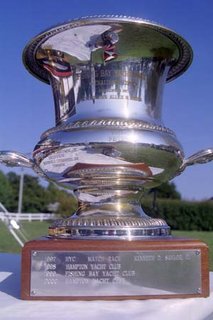 Presented in 1971 by Commodore Allen Potts for inter-club match race competition. In 1983, the Board of Trustees of FBYC and former Commodore Allen R. Potts revised the terms and conditions for this match race competition and designated J-24's as the yachts to be used. There is a revised 1985 deed. In 1993, the Board of Trustees designated J-29's as the competition class. In 1995, the Board of Trustees changed the designation procedure to allow the boat class to be determined on an annual basis. In 1998, the Board of Trustees approved a revised format as follows:
The competition for the Potts Southern Bay Challenge Cup will be held during the Fishing Bay Yacht Club's Annual Halsey Regatta.
The competition will be among teams of three boats each representing Fishing Bay Yacht Club (FBYC) and any other yacht club(s) represented by at least three boats participating in the Halsey Regatta.
Each team will include one boat from each of the following spinnaker fleets: PHRF A, PHRF B and MORC. However, at least one month prior to the Halsey Regatta in a given year, the fleet captains of FBYC and the other yacht club(s) that plan to enter teams in competition may decide together to designate different fleets in order to maintain or enhance the quality of competition.
At least two weeks before the Halsey Regatta each year, the fleet captains of FBYC and the other yacht club(s) that plan to enter teams in the competition will exchange lists designating the primary boats representing their respective clubs. Each fleet captain may also designate one alternate boat for each fleet. If a primary boat has to withdraw from the Halsey Regatta because of damage or other reason that is beyond the control of the boat's owner, the score for the whole regatta of the applicable club's alternate boat in the same fleet as the boat that withdrew will be substituted for the score of the boat that withdrew. Also, the fleet captains will work together to ensure that the designated primary and alternate boats in each fleet have handicaps with a spread of not more than 30 sec/mile.
The owner of each boat in the competition will be the primary helmsman of that boat during the competition and will have been a member in good standing of the club he or she is representing since April 1 of the year of the competition.
The Potts Southern Bay Challenge Trophy will be awarded to the team of boats that has the lowest total points during the Halsey Regatta.
In 1999, the name of the regatta was changed at the request of the Halsey family from the "Halsey Regatta" to "Stingray Point Light Regatta." In 2000, the name of the regatta was changed to the "Stingray Point Regatta."
| | | |
| --- | --- | --- |
| 1971 |    | Adversaire FBYC |
| 1972 |   | Fat Chance HYC |
| 1973 |   | Fat Chance HYC |
| 1974 |   | HYC |
| 1975 |   | Tom Hunnicut HYC |
| 1976 |   | Bill Cofer HYC |
| 1977 |   | James E. Rogers FBYC |
| 1978 |   | Dan Winters HYC |
| 1979 |   | Not Awarded |
| 1980 |   | Warren Hunnicutt HYC |
| 1981 |   | Not Awarded |
| 1982 |   | FBYC by Default |
| 1983 |   | Dan Winters HYC |
| 1984 |   | Norfolk Naval S.A. |
| 1985 |   | Norfolk Naval S.A. |
| 1986 |   | Not Awarded |
| 1987 |   | Not Awarded |
| 1988 |   | Eddie Williams HYC |
| 1989 |   | Eddie Williams HYC |
| 1990 |   | Not Awarded |
| 1991 |   | Not Awarded |
| 1992 |   | Not Awarded |
| 1993 |   | Ben Weeks HYC |
| 1994 |   | Kenny Saylor HYC |
| 1995 |   | Kenny Saylor HYC |
| 1996 |   | Not Awarded |
| 1997 |   | Kenny Saylor HYC |
| 1998 |   | HYC Syndicate |
| 1999 |   | HYC |
| 2000 |   | HYC |
| 2001 |   | HYC |
| 2002 |   | HYC |
| 2003 |   | HYC |
| 2004 |   | HYC |
| 2005 |   | FBYC |
| 2006 |   | FBYC |
| 2007 |   | HYC |
| 2008 |   | FBYC |
| 2009 |   | HYC |
| 2010 |   | HYC |
| 2011 |   | HYC |
| 2012 |   | FBYC |
| 2013 |   | HYC |
| 2014 |   | FBYC |
| 2015 |   | HYC |
| 2016 |   | Not Awarded |