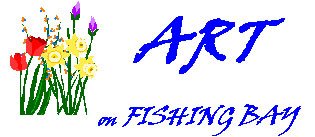 WEDNESDAY, June 30TH 6:00 - 9:30 pm FISHING BAY YACHT CLUB DELTAVILLE, VA
The Leukemia & Lymphoma Society and Fishing Bay Yacht Club present the following artists:
Exhibiting Artists
THE BELLEVUE SQUARE QUARTET will perform for your listening pleasure. FBYC member Francis Church on cello, Rev. Tom Smith on flute, Ann Archer on violin and Hal Carle on viola.
KATHLEEN NOFFSINGER - her colorful watercolor paintings and limited edition prints include wildlife and nature scenes from the Chesapeake Bay and Florida Keys. Her paintings have been featured in many publications including Chesapeake Bay magazine. She is a popular workshop instructor for art leagues and member of the Virginia &National Watercolor Societies. Her work may be viewed online at www.kathleennoffsinger.com. Kathleen accepts a limited number of commissions each year and may be reached at her studio/gallery in Hartfield, VA (804) 776-7191.
JANE HALL - a member of FBYC for twenty years, jumped from Richmond to Deltaville seven years ago where she and her husband, Chip began the renovation of their Stove Pt. home. Jane was the interior decorator and painter for this four-year project. A Salem College graduate with a minor in Art, Jane has taught Art in Elementary Education and summer camps during her teaching career. The colors of Jane are to be found on canvas, furniture, and pottery. In this exhibit on July 9th she will tie together a variety of offerings with works from these categories.
DIXIE HOGGAN a professional artist, travel planner, owner DEH Travel, Inc. She holds a BA degree in art history/ painting from Mary Baldwin and an MFA in painting/ printmaking from VCU. She studied at the Academy of Fine Arts in Bologna, Italy. A trip planner for universities, museums, and special interest groups, she has traveled and photographed extensively. She worked as an editor for the Travel Channel Online Network, providing her with the opportunity to combine travel, image-making, travel writing. Her latest project, "Swimmers," a series of abstract forms that appear to be immersed in water.
EDWARD H. RADCLIFFE, otherwise known as Rip, internationally known, a sculpturer, painter, builder, furniture maker and all around bon vivant. Rip has been building and carving for forty years, recently has started watercolor painting, pencil drawing, and pastel painting. His works are primarily privately owned and it is with great pride that we here offer some for sale.
JANE McCULLOUGH WELLS - Jane Wells paints portraits of dogs (oil on masonite with painted frames) and sells them at the Irvington Farmers Market. She has recently expanded her repertoire to include cats, pigs and boats, etc.
KAPTAIN KRUNCH - Our local sign painter has been working with local boatbuilders with his technically-oriented "artist's deceptions" for many years. His high end gold and silver leaf work is a fasinating look into the world of marine graphics.
JOAN MANNELL - Local Chesapeake Bay Artist finds inspiration for her paintings from her Deltaville surroundings. Long time resident of the area she finds subject matter for her artwork consisting of deadrise watercraft used by the Bay watermen, wildlife, marsh and creek scenes of the area. Joan's primary media is watercolor; however, she uses acrylics and oils for artwork on glass and wooden objects. She stays busy throughout the year doing 22 juried art shows. Her artwork is on display in art galleries and museums. Her training was obtained through VCU and studying under accomplished artists and self-teaching.
WILLIAM BENJAMIN RICHARDSON known as Ben by most has spent a lifetime around the Chesapeake Bay. He began a career in woodcarving after taking a job sailing on tugs and barges. He purchased a pocket-knife and began whittling and carving. Living in Mathews, VA his numerous wildlife observations developed into a "self-taught" carving style and provides inspiration for his unique collectibles. He has won over 20 blue ribbons and awards for best in show. A recent carving was selected for the Admiral's cabin on the aircraft carrier, Theodore Roosevelt. An active member of the Mathews Art Gallery.
ANN LAWMAN has painted for many years and works primarily with oils. Most recently she studied with Barkley Sheaks, Curney Nuffer and a seminar with Loryn Brazier. Ann had two solo shows exhibited at the Richmond Public Library and the General Assembly Bldg. and a number of other locations. Her work is in many private collections. She and her husband Matthew live in Richmond, VA.
JEAN HESS has been drawing/painting all her life. She studied art for 2 years at Richmond Professional Institute then later earned a fine arts degree from William & Mary. For many years she has painted with a group of local artists led by Barclay Sheaks. Her works (landscapes, still lifes, people) have been exhibited in several Williamsburg locations and are in the collections of many art enthusiasts.
BLANCHE HERRING SCHARF enjoys all manner of creative endeavors. She is a member of the Chesapeake Bay Writers Club and Rappahannock Art League. Known as Garden House Art, she takes pleasure in photographing her garden and also painting those images on furniture and glass. She and husband Len are owners of Yates House Fine Art and Craft Gallery in Deltaville. For this exhibit, she will show her unique jewelry designs, digital photography and painted pieces.
WILLIAM C. NEWMAN is a retired architect (FBYC Clubhouse) who began the serious development of watercolor painting in 1990 studying with Eloise Cox, a Richmond painter. There followed workshops with nationally known watercolorists; Skip Lawrence in Maine, Don Andrews in New Hampshire, and Judy Wagner in Maine. Newman has held three one-man shows with 25 to 50 paintings at each. There was also a 25 painting display in a 6 person show. Subjects have included landscapes, waterscapes, wildlife, flowers and people.
AUDREY WRIGHT - Growing up a sea captain's daughter in Mathews Cty., VA, has given her a lifetime appreciation of her natural surroundings. Listening to talk of workboats and lighthouses, watchiong marsh birds in the creek and observing fog rolling out the Bay influences her work. She has sketched and painted all her life with very little formal art training. She may be reached at www.hwright@visi.net.
JERRY SPANGLER - After 40 years of establishing a successful insurance business, local artist, Jerry Spangler, picked up his paint brush and rediscovered his old flame in 1994. He paints most every night in his studio behind his home, transferring his love of the outdoors to his paint brush using oils & pastels. His work can be seen at "Jerry's Gallery" in Deltaville.
CAROLYN AUGUST - Carolyn is a potter, soapmaker and musician. Clay runs deep in Carolyn's roots. Her great-great grandfather came to America from Germany in the 1840s and started Uhl Pottery in southern Indiana. The pottery made at that facility, which closed in 1945, is highly collectible and has a collector's society of several thousand members. In her own collection, Carolyn especially treasures a large stoneware Uhl jug made around 1850
which you can see on display in her booth.
TINA McCLOUD - Sailing brought Tina McCloud and her husband, John, to the North River in Mathews about 20 years ago. Tina hopes her photographs of the Chesapeake Bay and the world beyond will give you a soothing "sense of place" in uncertain times.