Strother Scott on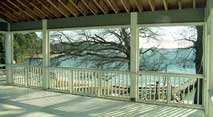 A wonderful new setting has been created with the upstairs screen porch facing Fishing Bay. The railing has been installed - by the time the bugs are out we will have screening on the walls and ceiling fans to stir the air.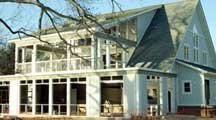 The exterior of the building is almost finished. The upstairs porches will be getting railings. The beautiful new mahoghany Doors made by Mike Karn are on site and will be hung soon - thereby enclosing the building and allowing the heat to be turned on.
Shortly the electricians will complete their rough-in and Northwind can begin the hang the interior finishes. More new photos taken on January 13 are also available.