Jon Deutsch on Tuesday November 6, 2018 09:27PM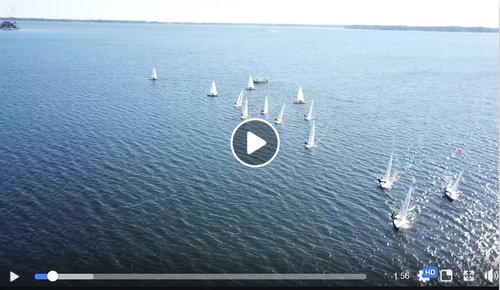 The Laser Fleet finished their season on Sunday at the Laser Frostbite Regatta that turned out to be a perfect fall day of air and water temperature around 60 degrees. The wind started out of the east at 13 and shifted around to the north and dropped to 8 by the time 5 races were sailed.
14 sailors attended including guests from Alexandria, Washington DC, Eastern North Carolina, Virginia Beach and Richmond. PRO Henry Latell and his crew of Bob Fleck and Jerry Latell ran the races and kept up with the changing winds.
James Jacob was the most consistent of the group winning 4 out of 5 races. Charlie Brewer was a close 2nd overall winning 1 race and finishing 2nd in two of them. Mike Moore was 3rd having sailed in the top 5 all day.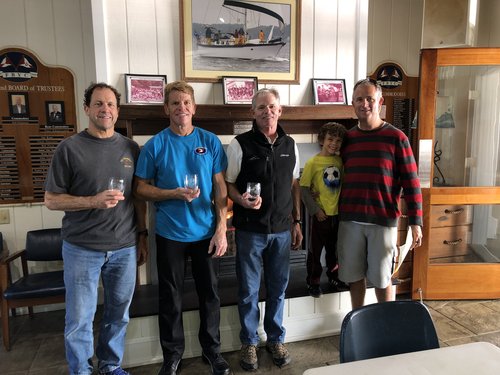 Back ashore Frank Murphy prepared a wonderful bowl of chili for the sailors to enjoy by the fire.
RESULTS | PICTURES | DRONE VIDEO
1 175881 James Jacob 1 1 3 1 1 7
2 209333 Charlie Brewer 2 4 1 2 4 13
3 195478 Mike Moore 3 5 4 3 2 17
4 159785 Jon Deutsch 5 3 2 4 6 20
5 199937 Len Guenther 4 2 5 5 5 21
6 155355 Dave Hanna 8 6 12 6 3 35
7 170719 Nabeel Alsalam 6 7 10 8 7 38
8 _ Mike Toms 7 10 6 9 8 40
9 166915 Finn Ciszewski 9 9 8 7 12 45
10 191498 Alain Vincey 10 8 7 13 11 49
11 210272 Chad Patton 12 12 11 10 10 55
12 210172 Frank Patch 11 11 9 11 DNF 57
13 195431 Jim Schuster 13 14 13 13 9 62
14 50025 Ron Jenkins 14 13 14 12 DNS 682018 Laser Frostbite Drone Video
Tags: laserfrostbiteregatta, laser, onedesign