Karen Soule on Tuesday November 19, 2019 08:32PM
WOW!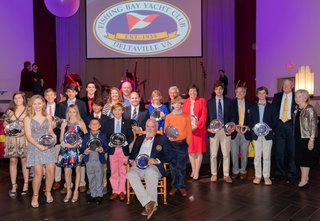 More than 185 members and guests celebrated all that FBYC is at our season's-end Commadore's Ball last Saturday night. Our annual meeting highlighted the strong financial position we've maintained and welcomed our new Flag.  The awards presentations showcased the accomplishments of our juniors and "older" racers and cruisers.  And everyone enjoyed an awesome night of great food, fantastic live music and the shared love of sailing with dear friends.  Our new venue, Richmond's Hippodrome Theater, was superb and many stayed 'til closing time dancing to the Jangling Reinhardts.
A special thank you to Mike and MJ Toms and Brynn Moody for helping at registration and David Hinkle for producing our front entrance poster.  And a huge shout-out to Social Chair Carrie Russell for all the arrangements.  (We also appreciate the flower arrangements from Strawberry Fields which were later donated to the Virginia Home.)
Be sure to check out all the photos from the evening at:  https://www.flickr.com/photos/fbyc/albums/72157711817716087
And look for an upcoming LOG for a complete list of all our award winners.