Blake Kimbrough on Wednesday November 22, 2017 08:11AM
Happy Holidays!   Come join fellow YAMs in Richmond for a parade and holiday gathering in Richmond on Saturday, December 2nd!   10am to 12pm at Lombardy and Broad, with continued festivities 12pm - 3pm at Katie and Arch Durham's residence 1522 Grove Avenue.  
Please R.S.V.P. to yamchair@fbyc.net before November 29th ... We look forward to seeing you there!
--
YAM Chairs: Julia & Blake Kimbrough
YAM Committee: Abigail & Massey Whorley, Jon Deutsch, Katie & Arch Durham, Jay Collier, Miles Kimbrough, Eliza Strickland, Caroline Garrett, Melissa & Mark Stephens, Mary Catherine McCallister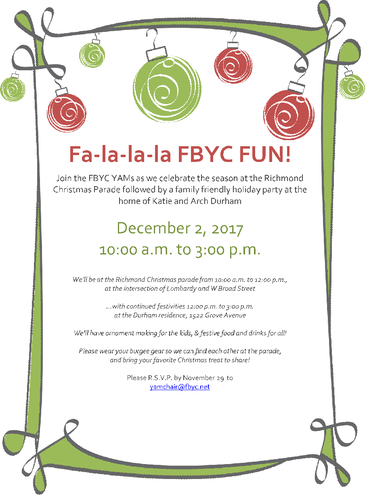 Tags: yam