Mary Spencer on Tuesday January 19, 2010 09:55PM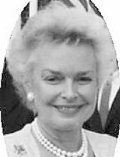 IN MEMORIAM
ORIANA R. HARGROVE
12/29/1928 – 1/18/2010
Mrs. Oriana R. Hargrove, of Hanover County, died on January 18, 2010. She is survived by her husband of 57 years, Frank D. Hargrove Sr. (Commodore 1969); daughter, Dale Alderman and husband Rick; sons, Frank Hargrove Jr. and wife Elizabeth, Stewart Hargrove and wife Lynn, and Wellesley Hargrove and wife Kimberly; and 10 grandchildren.
Oriana was born in Richmond and attended Longwood College and Arkansas College. Frank and Oriana knew each other from Thomas Jefferson High School and they were married after he returned from serving in World War II. Frank said that she never forgave him for taking her out of the city because she was a "city girl." She may have missed living in the city but Hanover County was her new home and she became very active in many Hanover County organizations. She was interested in assisting those with mental challenges and co-founded the Friends of Hanover, Inc., a charitable corporation that hosts the Hanover Gala to support the Sunrise House of the Hanover County Mental Health Association. She served on the Board of Directors of the Association for the Preservation of Virginia Antiquities, the Board of Associates for Randolph-Macon College, the Advisory Board of Memorial Regional Hospital, the Board of Directors of the Hanover County Mental Health Association, the Board of Directors of Hanover Tavern, and was a member of the Hanover County Republican Women's Club. Oriana was a member of the Ashland Garden Club and was particularly interested in gardening and historic preservation and restoration of 18th century structures, including her own home, Cool Water. She shared her own personal experience to promote awareness and understanding of those suffering from normal pressure hydrocephalus, an abnormal increase of fluid in the brain.
Frank Hargrove and a number of friends raced Cougar Catamarans. In 1962, the Hargrove family joined Fishing Bay Yacht Club with other Cougar owners where they organized a large fleet. Oriana crewed for Frank when they first became members but she finally told him one day that all he did was fuss at her so she jumped overboard and swam ashore. She and other FBYC mothers enjoyed visiting under the large tree in front of the clubhouse while their children went swimming, sailing or just playing on the dock. The main rules were that the children wear life jackets on the dock and be back at the club by 12:00 for lunch. When the Hargroves first started going down to FBYC, they often stayed with friends or rented a cottage. Dale Alderman says she can recall the children often sleeping in sleeping bags, even in their station wagon, when there weren't enough beds for all of them. Finally in the early 1980's, Frank and Oriana bought a home on Stove Point so that all of their family would have a place to stay. They helped start a junior program at the club for their children. Over the years, their children and then their grandchildren have participated, and are still participating, in the club's junior program. At one time, electric lines were strung across the main parking lot. Oriana hit the lines once when pulling a boat that had the mast up. She insisted that the club have the lines buried because she felt they were dangerous where they were. In the late 1960's, she pushed then Rear Commodore Fred Williams into proposing that the club build a swimming pool on the property. Some Board members didn't see any need for a pool. After all, it was a sailing club, not a country club. Oriana, and Fred, still pushed for it and the pool was completed in 1970. Fishing Bay Yacht Club was an important part of Oriana's life and brought her much joy and many friendships. At her death, she and Frank had been members for over 47 years and three of her four children and their families are also club members.
The family will receive friends from 2 to 4 and 6 to 8 p.m. on Wednesday, January 20, at the Reid Chapel of the Nelsen Funeral Home, 412 South Washington Highway, Ashland. Funeral services will be held at Fork Episcopal Church, 12566 Old Ridge Road, Doswell, at 11 a.m. on Thursday, January 21. Interment will follow at the church. In lieu of flowers, the family suggests that contributions be made to the Hargrove Scholarship at Randolph-Macon College, P.O. Box 5005, Ashland, VA 23005, or to Hanover Arc, P.O. Box 91, Ashland, VA 23005.