Marshall Schoenthal on Tuesday March 25, 2003 11:04AM

I have come to terms with the general idea that nothing is the same in Bombay as the rest of the world. Saturday was the day I had been looking forward to. Getting out on the water, having a couple of races, drinking some beer and enjoying time away from the office. Although I enjoyed the day immensely, it was not the same as a day back at Fishing Bay. The best way to explain the differences is to just go step by step through the day.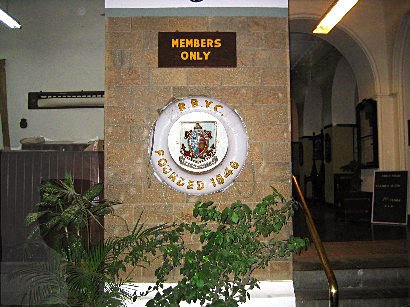 Pre Race Activities
Prior to leaving the club, there was the typical amount of confusion, "Where is my crew?", "Where is my boat owner?", "Do we have water?", "How many races?" etc..., but this is where most of the similarities stop. First of all, I didn't have to run to the Little Sue for my bottle of water, I purchased it for 10 rupees (20 cents). After getting all my needed supplies (sunscreen so my fair skin didn't cook in the Bombay sun), we walked over to the Gateway of India to be taken out to our boat in the launch.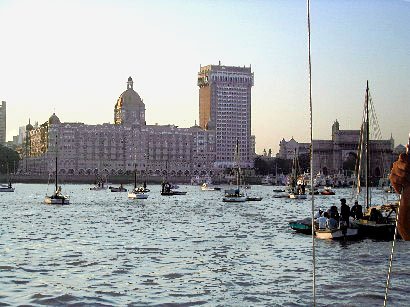 Stepping on the boat I was a little nervous, I figured the J-24 would be in horrible condition. What I forgot about is that is cost nothing to have someone take care of your boat full time. The deck was spotless (no bird sh*t) and down below looked like it was right out of the box (no mold, no pool of water, no smell of stale beer and 2 year old bag of chips). The sails (while softer than my bed sheets) were already on the deck, everything was rigged up, and we were ready to go sailing.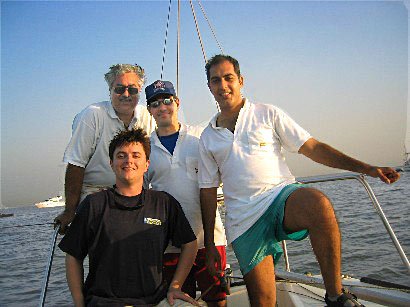 Sailing
Racing would include six 5-leg races on a triangle course with the longest leg taking no more than 10 minutes, each race was over in 30 minutes. With only three J-24s on the line the starting strategy was simple stay away from the other two boats who decided they would rather match race each other. The other three guys on the boat had not sailed together very often so crew work had a little to be desired. I worked the fore deck which kept me away what I figured would be the yelling in the back of the boat. This didn't happen. Confrontation is not a big thing with Indians, so even when we hit someone or someone hit us very little was said and no protest flags were flown (Scott you would not have liked this) everyone just did their turns without saying a word. It was strangely civilized. We had a good day of racing with one 1st, three 2nds, and two 3rds.
Lunch was not on the boat and I figured that I would just go hungry, after sailing with Clark for a number of years, I was use to not having much food on the boat so this was not a big deal. After the 3rd race, we were approach by the lunch boat that gave us our sandwiches and drinks (a service that every club should have).
After racing I started to make up lines and roll sails, but was told to wait until we had the boat boy help us out. (another service every club needs).
Post Sailing Activities
After a day of sailing in the hot sun, I was excited to relax at the club and have a couple of cold KingFishers (beer). This did not happen. We had finger sandwiches and tea. Again very civilized, but something I thing I will work on changing over the next year. The awards ceremony was put on hold until Monday night because racing and the Sunday night party had to be cancelled because of the World Cup Cricket match.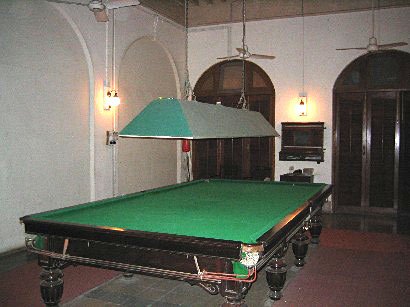 Over all it was a great day on the water, with great people. I would recommend it to anyone coming to India.