Phil Webb on Tuesday August 28, 2018 10:24PM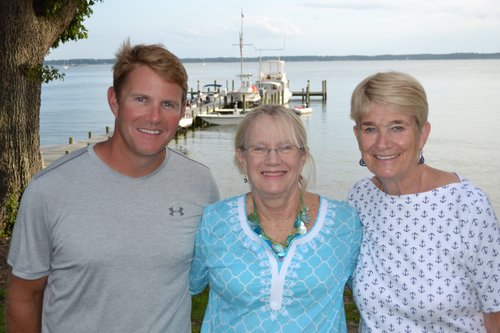 Clark and Paula Dennison; Ann Murray (Jere's Sister)
Jere's Legacy Regatta was a wonderful event! There was excellent race course management by the race committee under trying conditions of shifty winds.  There were three races and nineteen boats started the first race.  The Regatta consisted of three boat divisions;  Flying Scots (8), Typhoons (3), Portsmouth Class (8).  The weather was perfect for this type of fun racing - and - no protests.
The Regatta social was outstanding.  There was an enjoyable continental breakfast before the race.  In addition to the racing, the after race awards social was a highlight of the event.  There were approximately 70 people in attendance.  Event sailors, family, friends of Jere - all to have fun and pay homage to a FBYC icon - Jere.  In addition to the normal race trophies, event awards were given to Paula, Clark (son), Cassandra (daughter), Eliza (granddaughter) and Ann Murray.
The food menu for the after race social was perfect for the occasion and liquid refreshments did not stop flowing.  All in all, Jere would have been extremely pleased with his event - Geezers sailed and partied!!!
Race results - Portsmouth, Typhoon Flying Scot  and Flickr pictures forthcoming.
Best,
Phil
Tags: legacyofsail, scot, onedesign, typhoon