Karen Soule on Tuesday June 8, 2021 08:08AM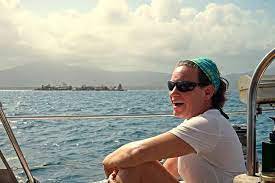 We love working with other sailing organizations on the Chesapeake Bay--especially the Harrington Harbour Sailing Association (HHSA)!  This Thursday, June 10 at 7 PM, HHSA is hosting a Zoom presentation with FBYC members Nica (and perhaps Jeremy) Waters where they discuss their major refit, rerig and renovation of their Bristol Channel Cutter, Calypso.  They've been living on the hard just down the road from the club while preparing for some far-flung sailing adventures.
Register to hear how they're progressing at:  HHSA.org.  Look under the "Social" tab (we're sure this has been only great and relaxing fun!) to sign-up.