Strother Scott on Thursday September 21, 2017 05:35PM
I have now migrated almost all our history content to the new website - I ran across one of Jere's history articles describing FBYC's participation in the 1974 Lloyd Phoenix Regatta.  Due to fortuitous circumstances, Fishing Bay Yacht Club came back to win the Championship on the last day.  There may be some timely advice for our team at the US SAILING's National Offshore Championship in Annapolis this weekend. 
Excerpting from the article...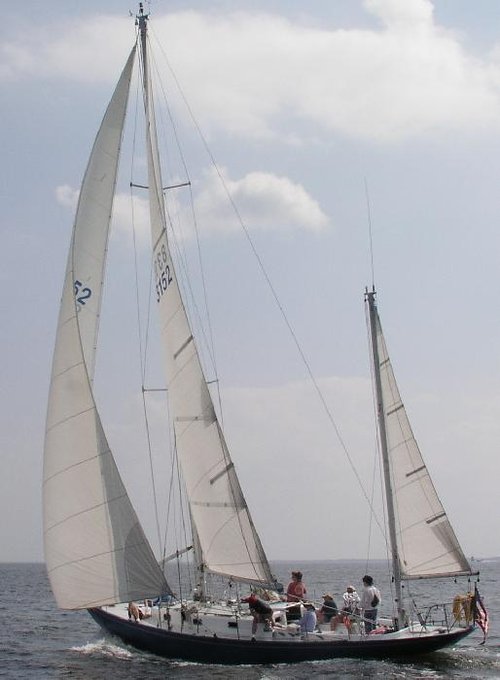 According to Johnny, he and his crew adopted an ultimately winning strategy for the Luders 44 in these difficult circumstances: "So our game plan turned out to be to get a clean start where the small crew could concentrate on sail trim and get this big hull up to hull speed as soon as possible. The mizzen sail was not used as it required another crewmember and did not give you much performance for its size on a triangular course. So we just forgot it and concentrated on boat speed and sail trim. This turned out to be a winning tactic and, as the others played with each other, we went for clean air and pulled away at the start of each race. We also used a lot of small boat tactics adapted to the yawl (hard to do with a heavy 44 footer) to maintain speed through the water by limiting quick maneuvers and used small rudder changes to maintain course. We applied telltale strings on the jib that we had to put on and take off as we rotated from hull to hull. Needless to say we found that the other crews always moved the fairleads after their race so that everything needed readjusting in the short warm-up period we had while getting used to a new boat with a race getting ready to start."
Beneath the headline Fishing Bay Wins Lloyd Phoenix Regatta, the July 22, 1974 edition of the Baltimore Sun proclaimed that "the Fishing Bay Yacht Club sailing team from Virginia yesterday won the race against the clock, the fleet, the wind and the tide, to capture the 15th Annual Lloyd Phoenix Regatta sponsored by the United States Naval Academy Sailing Squadron". The story continued to describe how the series was won.
Read the rest of the story at  https://www.fbyc.net/club/history/jeres-history/33-when-fbyc-won-auld-mug/
Tags: offshore