Karen Soule on Monday August 26, 2019 09:26PM
Strong August winds (that's right) shattered the belief that late summer sailing on the Chesapeake is boring.  Not so!  The Wee Dram racers sped to Cape Charles in near record time on Saturday to choose the winning bottle of Scotch Whiskey--no "e."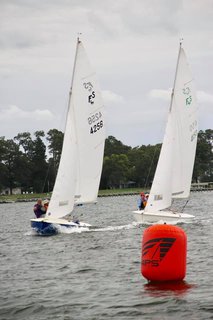 Back in Fishing Bay, the Jere Dennison Legacy Regatta proved that tiller prowess only improves with age.  Taking line honors were Jon Wake, Phil Webb and Tracy Schwarzchild in Flying Scots; Mike Miller and Tom Roberts in the Typhoon fleet and Mike Chesser, Wes Jones and Jim Black sailing Portsmouth.  Congratulations to them all.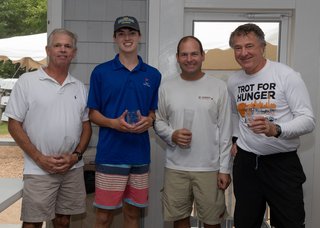 Then on Sunday, our Laser II Summer Regatta showcased the skills of Jon Deutsch, Mike Toms and Joshua Almany who took the top three of four places.  
Who needs the winds of November when we've got northerlies in August!