Karen Soule on Tuesday September 8, 2020 07:51PM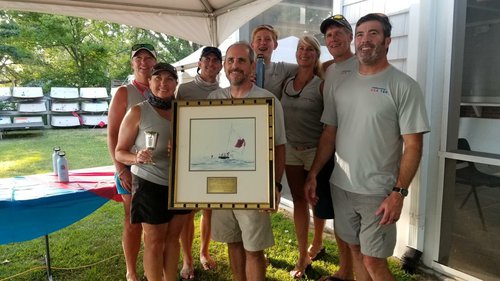 David and Jacki Meiser and crew aboard One Trick Pony won the 2020 Brent Halsey Jr Memorial Trophy awarded at this year's Stingray Point Regatta--Covid-19 Edition.  They had two bullets, a second and third place in their PHRF-A division sailed in 20-25 knots on Saturday...and much lighter winds on Sunday.  They sail out of Solomons, MD.
In the other fleets, FBYC sailors took top honors:
One-Design:  Clark Dennison on Bad Decisions.
PHRF-B:  Bob fleck on Mad Hatter
PHRF-C:  Paul and Julie Ann Wash on Cheeky Monkey
Dave and Veronica Hinckle, their volunteers and RC did an outstanding job managing this 26th annual event under challenging conditions.   Congratulations to all who participated and helped.