Jon Deutsch on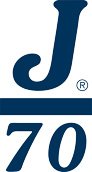 FBYC's J70 Pied Piper, with 13 year old Gannon and his Dad, Dan, sailing with former FBYC Coaches Victor Diaz de Leon and Thomas Dietrich, have accomplished an extraordinary result at Charleston Race Week in a fleet of 67 boats.

Pied Piper was second overall in the J70 Fleet with 21 points, barely losing a tie-breaker with the 2015 CRW repeat winner and World Champion Julian Fernades Neckelman aboard Flojito de Cooperando, also with 21 points, finishing the last race Second and Third, tipping the tie-breaker to Fernandes.

Because of the fleet size, the J70s were divided into 4 fleets, and sailed a round robin, as in an Opti Championship Fleet. So the 18 Races scored are actually 9 ...