Karen Soule on Wednesday October 9, 2019 08:40AM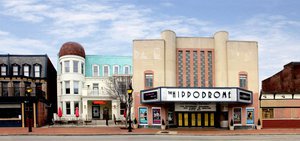 Fishing Bay Yacht Club requests the honor of your presence
                                         at the 2019 Annual Meeting and Commodore's Ball
                                                   Saturday, November 16, 2019
This is your "formal" invitation to FBYC's exciting, hip, and way-cool social event of the year.  We've got a new venue--The Hippodrome in Richmond's historic Jackson Ward. (Check it out here:  https://hippodromerichmond.com).  And we've slashed the price from previous years to encourage as many as possible to attend.  The full evening features:
Annual Meeting in upstairs Screening Room 5:30-6:00 PM
Cocktail Hour cash bar and passed hors d'oeuvres 6:00-7:00 PM
Sit-Down Dinner 7:00-8:30 PM
Awards Presentation during dessert  8:00-8:30 PM
Music and Dancing by The Jangling Reinhardts throughout the evening. 
Event Ends 11:00 PM
Sign-up on-line now at:  https://www.fbyc.net/events/2019/191116-social-commodores-ball. 
And trade in your deck shoes for dancing ones!