Fishing Bay Yacht Club is a sailing club located in Deltaville, Virginia. The yacht club is on Stove Point and has water frontage on both Fishing Bay and Jackson Creek. Fishing Bay is a well-protected bay on the Piankatank River. The Club's slips are on Jackson Creek, from which there is easy and close access to the Chesapeake Bay.

If you are interested in learning to sail, in racing events, organized cruising opportunities or fellowship with other sailors, we invite you to join FBYC.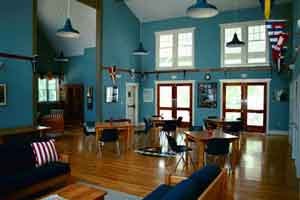 The Club is about a 90-minute drive from Richmond, where many of the members live, but it draws members from all over Virginia and North Carolina. In 1986 we bought adjacent land on Jackson Creek which enabled us to add a third dock of slips and a dry sail hoist for smaller boats. In 1996 we built Fannie's House with a kitchen, bathing facilities, and a screen porch on Jackson Creek. We replaced our main clubhouse on Fishing Bay in 2002. We added 2.1 acres of adjacent land and waterfront in 2004, added a pool house in 2008. We are dedicated to continuing to improve our facilities and capabilities.

FBYC hosts a number of regattas, sailing events, and training sessions throughout the year. Most have on-line registration and are open to the public. We promote our events through our membership, our website, social networks, word of mouth, emails and social events – all to increase awareness of the sport and to gain participation from members and non-members alike. Most events are run by one of our four divisions.
One Design – hosts races throughout the sailing season and conducts the Annual Regatta in August, which attracts more than 100 boats for a fun weekend of racing and affiliated social events.
Junior Division - In recent years more than 150 children participate annually in our various opportunities for Junior Sailing learning. Instructors are a combination of professional national and international coaches, US Sailing instructors, and experienced volunteers. Every year since 2007 a Fishing Bay Yacht Club team member has won either the Opti or Laser Radial division of the Chesapeake Bay Yacht Racing Association High Points.
Offshore Division – has a full program of offshore racing events for larger racing boats. They have spring and fall series events run at the mouth of the Piankitank River and longer distance races that go all over the Chesapeake Bay. Over Labor Day we host the Stingray Point Regatta.
Cruising Division - organizes about 10-15 cruises annually for those who prefer more leisurely sailing and the camaraderie of fellow members. The cruises vary from short trips to a nice raft up or destination for dinner, to multi-week trips around the Chesapeake Bay, the Delmarva Peninsula, or to New England.
FBYC is a member of US Sailing and CBYRA and is a Founding Member of the Sailing Hall of Fame. In 2007 FBYC was awarded the prestigious US Sailing One-Design Regatta Award for the outstanding regional regatta of the year. In 2010 and 2012 we were invited to send a team to the NYYC Invitational Cup Qualifying Series.

We strive to be a community where sailing thrives and friendships are forged. We are led by a Commodore, Vice-Commodore, and Rear Commodore and by a series of other officers, Trustees, and Committee heads, who meet monthly as a Board of Trustees in Richmond, VA.