Sailing
We operate our sailing activities through 4 divisions. Our Offshore Division conduct an extensive Sailing Events Schedule for boats rated for PHRF. We also have 6 active J-105s and a number of J-24s. Our Schedule includes a Spring Series and Fall Series and several summer regattas, including the Leukemia Cup Regatta and and the Stingray Point Regatta racing for the Brent Halsey, Jr. Memorial Trophy on Labor Day weekend.
Our Cruising Division organizes social activities and sailing cruises for those with live aboard sailboats who want to visit different places and get together with friends. Traditionally they have one, two or three day trips at the beginning and end of the season and longer trips in the summer — usually one to two week trips around the Chesapeake Bay and sometimes trips to New England, Maine, or North Carolina.
Our One Design Division has its own schedule of spring and fall series, and various summer races including our traditional Annual Regatta held in August. Racing is held in several areas of Fishing Bay. We usually have racing for the fleets of Lasers, Mobjacks, Front Runners, Flying Scots, 420s, and Optimists. Our Laser Fleet hosted the 2000 U. S. Laser Masters Regatta and hosts frequent Chesapeake Bay Laser Masters Championships. In 2004, the club hosted the Mobjack Nationals. In 2005 we hosted the Flying Scot Atlantic Coast Championships, and in 2007 we hosted the 2007 Flying Scot North American Championships which was awarded a trophy by US Sailing as the Winner of the 2007 One Design Regatta of the Year - See award here.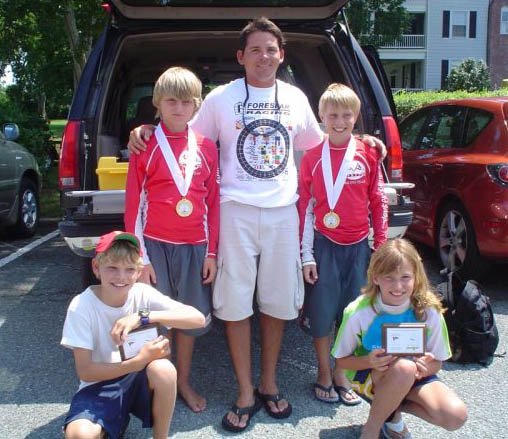 Our Junior Division runs a very popular Junior Week every year in June. It has grown to about 125 juniors, in classes ranging from Opti-Kids and Beginning Opti up to Racing Class, Team Sailing, and Windsurfing. The Junior Race Team travels with boats, coaches, and parents to Junior Regattas all over the Bay, and sometimes returns with silver - as witnessed by our team attending the 2005 Virginia State Optimists Championships in Hampton. The Juniors hosted the 2004 Optimist Atlantic Coast Championships, the 2005 Bay Open Championships and Junior Olympics. and the 2006 Virginia State Championships for Optimists, Lasers, and 420s, and the the 2007 Virginia State Junior Championships.