FBYC STORE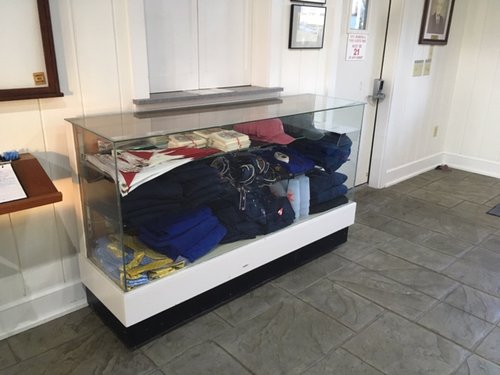 The mission of the Ship's Store is to promote branding and awareness of the Fishing Bay Yacht Club through the sale of merchandise with a variety of Board-approved FBYC logos/burgees. The Store has grown from a small inventory stored in plastic bins under the stairs and sold at a pop-up table during certain events to expanded merchandise in a permanent display case with a price list and contact information for the Store chairs who will promptly address your needs. The Store's purpose is to increase the visibility of FBYC at venues near and far. We do not operate the Store to generate a profit.

The Store stocks clothing (such as fleece jackets and vests, sweatshirts, cotton and quick-dry t-shirts, long and short-sleeved), apparel (including hats, belts, flip flops, ties and cummerbunds), and sundries (such as burgees, bags, tumblers and GoVino cups, decals, and notecards). In addition, we place customized orders on current merchandise or other, non-stocked merchandise show casing such things as boat names and/or sail numbers in addition to one of the many approved logos. The approved logos/burgees are available for viewing on the Club Website under Webtools, Branding Program.

We strive for increased member participation to purchase merchandise, hold the Store open during events, and suggest additional items for the inventory. Each month, we run a "special" advertising a specific item for quick sale at decreased prices. The Store can be what the members want it to be – we just need to hear from you!