Facilities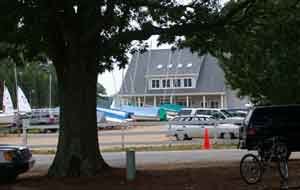 In 2001-2002 we replaced our original Clubhouse with a new 2 story clubhouse. The capital costs of the project were primarily funded by a fund-raising campaign among the membership together with accumulated club cash. The new clubhouse gave us a brand new catering kitchen for events, a large efficient screened in porch, a winterized room downstairs with a cozy fireplace, and a wonderful new upstairs area that is air-conditioned, along with a quiet screened in porch overlooking Fishing Bay. We commissioned the brand new main clubhouse on Opening Day 2002. See pictures of the completed new Clubhouse.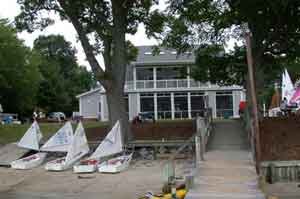 Shown at the left above is a view of the new Clubhouse from Fishing Bay Road. And on the right, the view is taken from the One-Design Dock on the Fishing Bay side.
The other side of our property fronts on Jackson Creek, where we have a number of slips occupied by member yachts and we have a 3-ton lift for dry-sailed yachts and visiting trailered yachts. Jackson Creek offers easy access to the mouth of the Piankatank River and the Chesapeake Bay where we conduct our racing for our Offshore boats. Near the docks on Jackson Creek, FBYC has a second clubhouse known as "Fannie's House". It has a kitchen and living room with a large screened-in porch overlooking Jackson Creek and is used by members who keep their boats in our slips on Jackson Creek, and for training, meetings, and regatta scoring. We now have wi-fi wireless internet access available in the Main Clubhouse and in Fannie's House and it reaches all the boat slips in Jackson Creek.
In 2004 we purchased 2.1 acres of adjoining land to the east of the club property. The new land materially increased our capacity for on-site parking and boat storage, plus it added additional waterfront on Fishing Bay. The picture on the left shows the new land being used as a rigging field during our 2005 Bay Open Championships, and the picture to the right shows Optimists about to be launched into Fishing Bay on the new beach ramp.
There is a salt-water pool and wading pool directly adjacent to the dock, overlooking Fishing Bay. Rack space is available for small boats like Optimists, Bytes and Lasers. Boats can be launched on Fishing Bay using on a concrete ramp which can be used for cars and trailers, or on the new grass beach ramp on the new property.