Fishing Bay Yacht Club offers a wide variety of opportunities for camaraderie among sailors and non sailors and welcomes members, crew and guests. For many, we are a destination yacht club, so we frequently serve meals at the club in association with our event schedule. For those who live nearby, or have second homes in Deltaville, we are a local club, and an attractive place for gathering with family and new friends.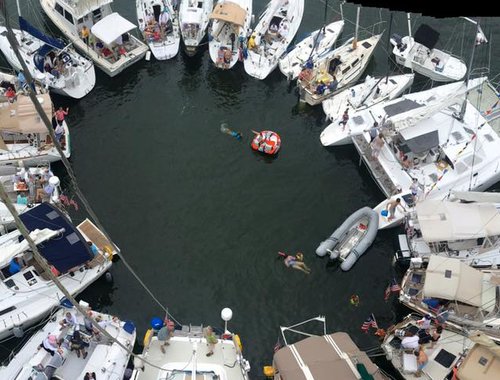 Annual Parties. The season begins with a winter program and a sock burning party. We open the sailing season with the Welcome Cruising Dinner in early April and a big Opening Day party. The Open House Regatta on Memorial Day weekend features a sunflower raft up in the afternoon plus dinner and music at night. Around July 4, we have a family cookout. The Annual One Design Regatta in late summer  and the Stingray Point Regatta on Labor Day weekend are large sailing events with scheduled meals, live music and parties. The season concludes with the Cruising Closing Dinner prior to an Oyster Roast at the Clubhouse and the Commodore's Ball in Richmond with our Annual Meeting and Awards. To participate or learn more, visit our Events pages and register for the events you wish to attend.
After Race Socials are held following both one design and offshore sailing events.  Every event has a Social Chair who organizes beer and snacks for participants.  
Clubhouse and the Swimming Pool - the club pool is open during the swimming season and is staffed with a life guard at posted hours. Non sailing spouses and children frequently spend the day at the pool or clubhouse. Ric's Place is a shaded pool pavilion offering respite from the sun. Upstairs at the main clubhouse is air conditioned and is a quiet place to read or watch television. Fannie's House has a usable kitchen and space for gathering near the Jackson Creek docks. We have campus wide WiFi available for member use.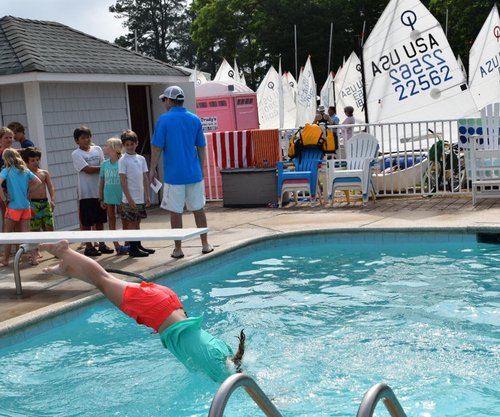 Young Adult Members or YAMs is a group dedicated to driving special events and programs to engage members across a unique spectrum of ages. Self regarded as the "Young and young-at-heart," YAM events are inclusive of  members in their twenties just recently finishing up college, thirty-somethings well into their careers, and families with children seeking opportunities to have their kids play together while enjoying fellow adults' company. Social and sailing gatherings are often hosted in Deltaville and Richmond, and they most recently began hosting monthly outdoor "Movie Nights Under the Stars" with a fun movie lineup, snacks and drinks at the Club. Join the YAM mailing list and/or join the FBYC Young Adults YAM Facebook group.
Wednesday Night Dinner group schedules shared-dish dinners at the Clubhouse weekly from April through October and occasionally in the winter. Join the Wednesday mailing list to participate. 
Connections - the website supports member fun and connections. Members can post and share news about their families and accomplishments. You can use the Search function to look up contact information on members. We have a very useful IOS app which shows all events, sailing instructions, and has a member database lookup. Finally we have 20,000+ pictures in 100's of albums on Flickr, and suggest you like or follow our Facebook, Instagram and Twitter pages.