Be Joyful and Courageous.
On a breathtaking rural point of land on the lower Chesapeake Bay, our campers have immediate access to a beautiful natural world in a protected small harbor called Fishing Bay.  Today, like yester-years, our juniors find dirt roads and picnic tables, screen porches and oysters, wildlife and ample outdoor space.  And equally, they purposefully don't find resort luxuries like air-conditioning, restaurants and technology.  Instead this is where they learn about all aspects of being on the water -- sailing of course, and sometimes swimming, weather, knots, kayaking, navigating, and sometimes crabbing, critter-catching, beach exploring, shells, aquatic life, oceanography, currents, tides, and sometimes how to have grit -- while growing in courage, friendships and laughter.  In sailing school mini-camps, what kids learn about the water and wind in one particular session is different, and we think this is so good as the instruction adapts to the sailor's interests.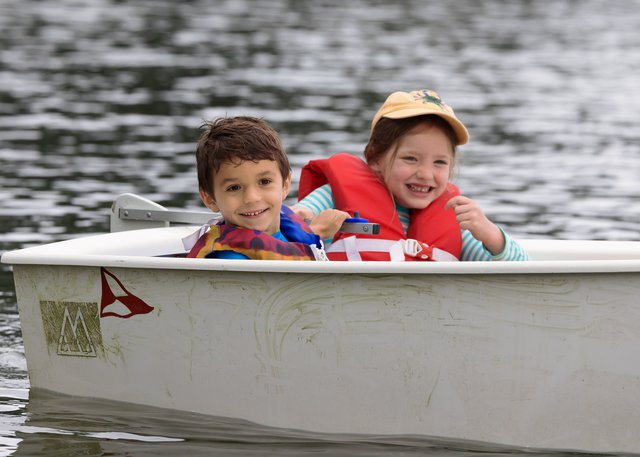 SAILING SCHOOL MINI-CAMPS
They are sailed in the Club's Optis and 420s during the summer (you don't need to bring a boat).  These mini-camps have sessions from the last week of June to the first week of August, except for July 4th weekend (see weekly rhythm below).   Do one mini-camp or multiple to progress your sailing and waterfront skills in a single summer.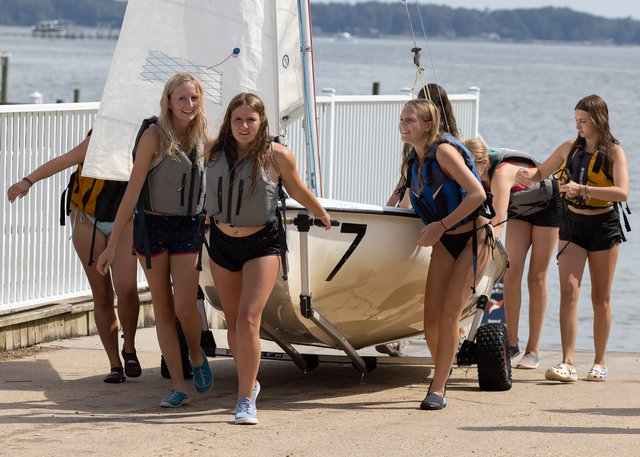 The camps will be taught by our Sailing Instructors and are taught in Fishing Bay. They are designed to capitalize on a high counselor to camper ratio, and are a great follow up to the other camps offered: Opti Kids and Junior Week.
Swim Test: All junior (<18 yo) sailors must pass a simple two-part swim test on the first morning of class. First, all sailors will be asked to swim the length of our pool (approximately 75') unassisted, without swim shoes and PFD (sailors 8 & under can wear a PFD if needed). Sailors who pass will then be asked to swim to our beach from the end of our pier in Fishing Bay, wearing swim shoes and a PFD.
Preparations: All sailors must bring their own lunch, a water bottle, PFD and water shoes.   Snacks and sunscreen are also recommended.    
Daily Schedule:  classes begin at 8:30am, with a few snack breaks in between, and ends at 12:00 pm.
Space is limited so don't delay, Summer Sailing School Register HERE
Junior (5-18 y/o) Sailing Classes
Date

Class

Boat

Experience

Cost

(per student)

Register

Wed-Fri

see Campdoc registration for details

3 day (half-days)

Opti & c420 sailing

Optimist (solo) &

c420 (2 sailors/boat)

6-13 yrs (Opti)

11-17 yrs (c420)

$260 - Member

$330 - Non Member

Registration opens March 1st

Sat-Sun

see Campdoc registration for details

2 day (half-days)

Opti & c420 sailing

Optimist (solo) &

c420 (2 sailors/boat)

6-13 yrs (Opti)

11-17 yrs (c420)

$175 - Member

$220 - Non Member

Registration opens March 1st