ONLINE REGISTRATION HELP
Summary - This page (updated in 2018) and is intended to guide you through the event registration process and answer any questions.
YOUR ACCOUNT ON OUR WEBSITES

To Register for an event – you must login first - If you do not see your name on the top right corner of the web page, you are not logged in.  If have an account, click on the LogIn link: https://www.fbyc.net/accounts/login/ to log in to the website.  That page has fields for User Name and Password and also links to two other pages:
Once you have your credentials use them to login. - Your name in the top right hand corner confirms you are logged in.  Whenever you revisit www.fbyc.net login should be automatic if you saved the password.
UPDATE YOUR PROFILE - ADDRESS - EMAIL - TELEPHONE?
To Update your Profile - Click on your name (on the top right hand corner) to update your contact information - changes are immediately reflected in our member database.
EVENT REGISTRATION

The Entry Form – Once you are successfully logged in, clicking on a red SignUp link will take you to the Entry Form.  The form was completely redesigned in 2016 and now works very smoothly, even on a mobile device.
The registration process requires that you go through 3-4 steps, like a modern shopping cart, where you
enter and submit Personal Data,
then Boat data if any, and
then Items to Buy if any
and then you can Review your final Registration before you Submit Final Registration. 
The attached image tries to show that process in one spot.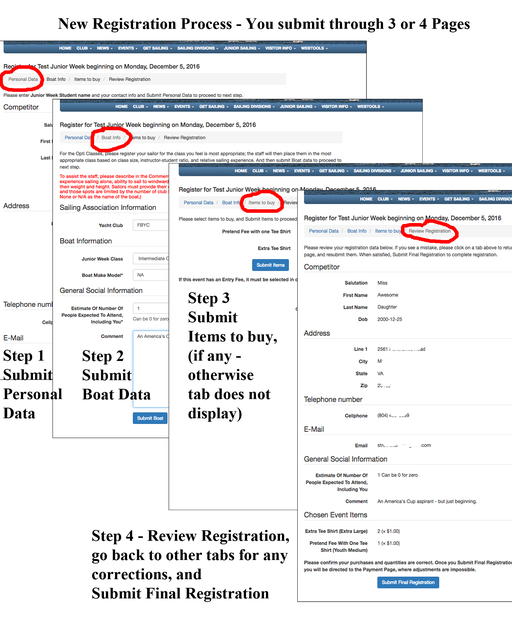 A few things to note:
Social Only – Many events have an after race social or dinner, and the Registrant does not wish to register a Boat.  On the Boat Info tab, there should be a radio button choice – "Social Registration only - coming, but not sailing" or "Have boat participating in the event".  If you are just attending the social, select "Social Registration only" - and the requirement to enter Boat Info is removed.
Autofill – Most fields (except for Junior Week – OptiKids events) should be automatically filled in with data – either your profile data, or the data you entered last time you registered for the type of event.  If the data is incorrect, please update it, and it will auto fill correctly next time you register for a similar event.
Required Fields – Fields with a "Red A

sterisk

" are required.
Validation - You may notice as you type, some fields have red text, which changes to black once the website validates your entry.
Purchases – if the event has a registration fee or items to buy, there will be a tab listing "Items to buy". 
Number of people – there is a space requesting the number of people who will be attending with you as well as a place for comments. The number of people is simply for planning purposes, and is not a substitute for getting dinner tickets, etc.  
Review & Mistakes – The last tab, "Review Registration" is intended to show you your selections.  If you see a mistake, please click on a prior tab and change the data.  After you submit Final Registration, it is too late for you to change mistakes.
Successful Submission – you will either be taken to a web page where your registration is confirmed or, if you selected items to buy, to the new Payment process.
We have a new credit card processing system in 2017.  We now use a system from www.stripe.com that securely processes your debit or credit card data from your browser window directly to Stripe using JavaScript in a way that means FBYC never sees or stores your card data.  The second time you use Stripe, if you elect, it will send you a 6 digit Stripe verification code which you enter in lieu of your card data.  Both these processes will be new and so please expect to see an unfamiliar payment window open on your browser, as shown below.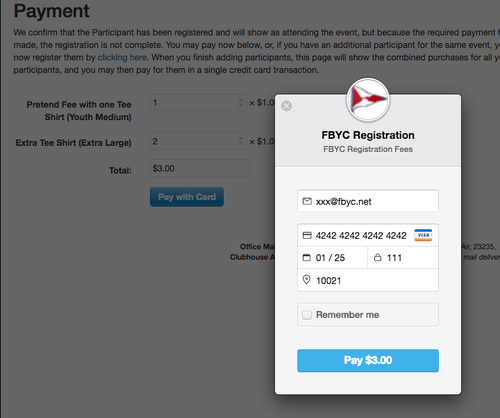 PAYMENT AND CONFIRMATION
Confirmation - Upon successful completion of the entry form, and payment you will see a confirmation web page and receive an email confirmation of your entry. The email should arrive within 5 minutes of your completed registration. It will repeat most of the information you submitted, and a copy of the email goes to our sailing events management people notifying them that you have registered.
Multiple Registrations and Payments - All payments are connected to the person making the registration entry, and not specifically to each person you might be registering. So the list of Purchased items, if any: on confirmation emails are CUMULATIVE FOR EACH EVENT - and will list the cumulative payments made by the person making the registration entry.
A SECOND REGISTRATION NEEDED?

Once you have registered, the Sign Up! link on the old website changes to a You are Registered link.  If you wish to register a second time for an event:
There will be a link on the email confirmation which will allow you to register a second time if needed.
Or you can click on the

You are registered

link - and at the bottom of the report is a link to

Register additional person

.
PROBLEMS?
Registration Mistake - If you find you have made a mistake after registering, like use the wrong name or class or boat, please just register again and then ask us to delete the extra incorrect registration.  If you have already paid the correct amount, there is no need to select items to buy the second time. 
Multiple Registrations of same person - If you intend to register say 2 children for Junior Week, and you find that your confirmation states you registered the same child twice and paid for 2 Registration Fees, please do not panic!  Just return to the site, and make a third registration using the correct second child's name.  If you have already paid for two, then do not select any items to buy on the third registration.  Typically we will notice the duplicates and will delete them, but it is helpful to alert your event chair to the mistake.   
Credit Card Issues - we have found that credit card issues seem to be non-existent with stripe.  If you suspect a Credit Card overpayment please let us know what your credit card statement shows  and we can research that and compare it what we collected from you. We happily refund validated overpayments.  Please contact Strother Scott.  
Cancelled Registrations - if you find you are unable to attend an event and desire a refund, please notify the Event Chair as soon as possible.  They must approve the refund.
If you have additional problems, please call Strother Scott at his cell 804-405-5999 with questions, or contact him by e-mail at strother.scott[at]gmail.com