Offshore
The Offshore Division sponsors traditional sailboat racing for bigger sailboats. FBYC schedules races around April and continuing through October and November. Most of the races are run in the Chesapeake Bay at the mouth of the Piankatank River.  See Exhibit B from the back of the Sailing Events Book although some races are of a longer distance and include races across the Chesapeake and back, up to Smith Point and back, and up the Rappahannock River, for example.
The boats in the division range from as small as 23' though most are in the 25' - 40' range. The races are conducted under the various rating rules. PHRF is used for almost all races and all boats. Most of these boats have a crew size of at least 4 people, and some have as many as 12 people on board. Many people become involved at FBYC as crew long before they apply for membership. For those interested in crewing, check our our Crew Training Program.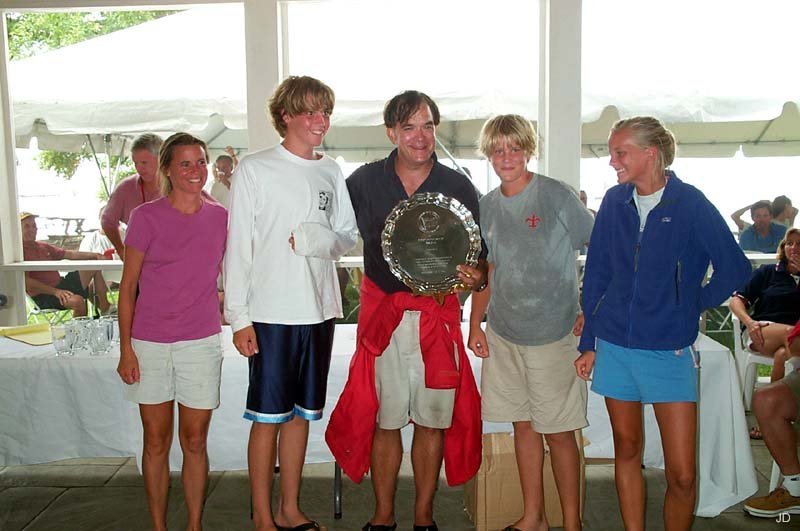 The biggest regattas held each year for the Offshore Division include a major fundraising regatta, the Leukemia Cup, the Stingray Point Regatta held on Labor Day weekend, J/70 Chesapeake Bay Championship in October and the Open House Regatta on Sunday of Memorial Day Weekend. The picture at the right shows the Sportsmanship trophy at the Stingray Point Regatta being given to Drake Johnstone and his crew on Nightmare Corell Halsey Moore, Brent, Philip and Ali Halsey.
Thousands of pictures on FBYC sailing at our Flickr Account - https://www.flickr.com/photos/fbyc/sets/