WEB INFORMATION
Fishing Bay Yacht Club's website https://www.fbyc.net/ helps promote the Club, manage our events, and attract new members and participants in our events.  We also have an IOS Mobile App for iPhones and iPads that has all event information, results and the member database. 
Home page - features a carousel slide show with 4-7 rotating images with links to featured events or web pages of current interest.  Below the carousel on the left is a News Feed displaying the last 10 news items.  The narrow right sidebar has three sections - Next 10 Events (automatically listing the next 10 events with links to event pages, on-line registration),  Event Results showing last 10 pages of Results and Event Photos - show links to the last 10 sets of pictures.
Usernames, Passwords & Permissions - All members should have Usernames and Passwords, which enable them to register for events and use both sites.  This protects the identity of our members and allows us to offer our member database on-line (address and phone book and yacht register).  We also offer Usernames to non-members for event registration. Both sites have links that send you to the account creation page https://www.fbyc.net/accounts/signup/ and the resetting of passwords page https://www.fbyc.net/password_reset/.
Navigation – On a computer, the red navbar of www.fbyc.net has your login info at the top right, and members-only related links, which appear based on your permissions, are also on the red nav bar.  Board Members, Events Managers, and Web Editors, will have additional links on the top right navbar.  The main navigation links, on the blue navbar, are visible to all. Most links have a "mouseover" feature, meaning if you hold your mouse over the link, sublinks are shown, and you can go straight to that sublink.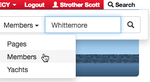 Search, a popular item, is a "Magnifying Glass Icon" found next to your name on the top red navbar. You can search for Members, Pages and Yachts.  Page Search will display links and ~100 letters of all pages which includes the word you enter.
News also can be seen at the News link - https://www.fbyc.net/news/    Members can post news articles only after they login to the "new" site. Help on Posting https://www.fbyc.net/help/post/ describes how to post news.
Event Registration - Sign Up! links to event registration are found throughout the site, on Next 10 events on the the Home page, on all event listing pages found under Events on the Blue navigation bar, and on each Event Page.   For information please visit Help for Registration.  
Yearbook - Annually we publish a digital Yearbook that is available on the FBYC website. It is a combination of database produced pages (Membership Roster and Yacht Register, Schedules and list of event chairs) and web pages which have been edited online and combined into the Yearbook.
Email lists – We have two primary email systems.  A) Clubwide and mass emails are sent to our mailing lists and you can manage your subscriptions at https://www.fbyc.net/news/mailchimp/.  We make it easy for everybody to keep up with Club News by sending the prior week's web news postings on Wednesday mornings.  B) In 2015 we converted all of member-managed email lists to "Google Apps for Work" with email addresses at the @fbyc.net domain. Those with Gmail will find the lists under their Google Groups. See information about our mailing lists and how to join or unsubscribe.
If you experience problems, please contact Paul E. Wash.