Be Joyful and Courageous.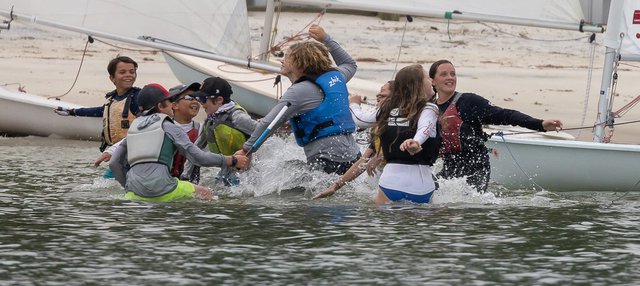 On a beautiful rural point of land on the lower Chesapeake Bay, our campers have immediate access to sailing through both protected waters and beaches for our beginners and deeper waters and bigger waves for the experienced sailors. Today, like yester-years, our juniors find dirt roads and picnic tables, screen porches and oysters, wildlife and ample outdoor space. And equally, they purposefully don't find resort luxuries like air-conditioning, restaurants and technology. Instead, this is where they learn about all aspects of being on the water -- sailing of course, and sometimes swimming, weather, knots, kayaking, navigating, and sometimes crabbing, critter-catching, beach exploring, shells, aquatic life, oceanography, currents, tides, and sometimes how to have grit -- while growing in courage, friendships and laughter.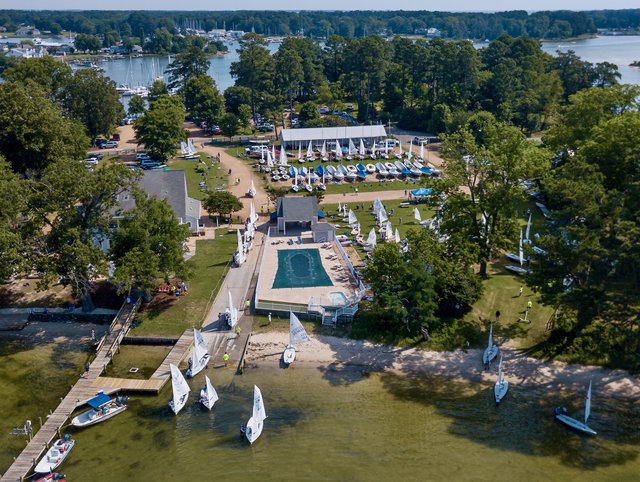 In 1939, our history began. And our founding mission, still intact today, begins with:
"the object shall be the development of the art and science of sailing, the acquisition of knowledge of the theory and practice of seamanship, navigation, meteorology, and allied subjects"
_________________________________________________________________________________________________________________________________________________
SUMMER CAMPS
Our summer sailing camps run 9 weeks from mid June to middle of August.  Registration opens February 1.  OPTIKIDS & JUNIOR WEEK are the kick-off camps for summer sailing during the first 2 weeks.  Sailing School & Development Teams are camps that sail the other 7 weeks of summer 4-5 days per week.  Race Team is a camp for the most experienced sailors and sails 5-7 days per week for 9 weeks. See below for more details on the different options.  
Summer Camp Schedule (overview)
Week 1               June 10-18  Opti Kids & Race Team Camps
Week 2               June 19-23  Junior Week Camp
Weeks 3 to 9     Sailing School, Development & Race Team Camps    
Mid-June (two consecutive weekends to make it easy since some kids are still in school). Perfect for our youngest sailors and a great lead-in to our other camps during the summer, this program is taught in waist-deep water off our beach, and is designed to start our children seeing the water of the Chesapeake Bay and sailing as great fun, and creating a carefree, and secure environment with hands-on learning including knot-tying, steering, adjusting a sail, swimming and plenty of games. Parents or guardians assist in the camp and get in the water. Open to the public. Ages 5 to 7.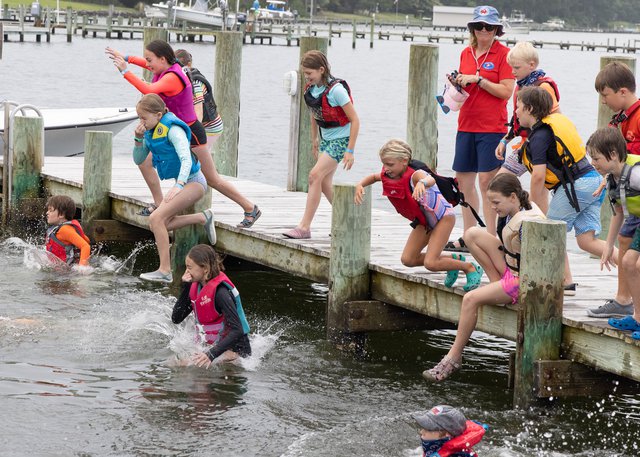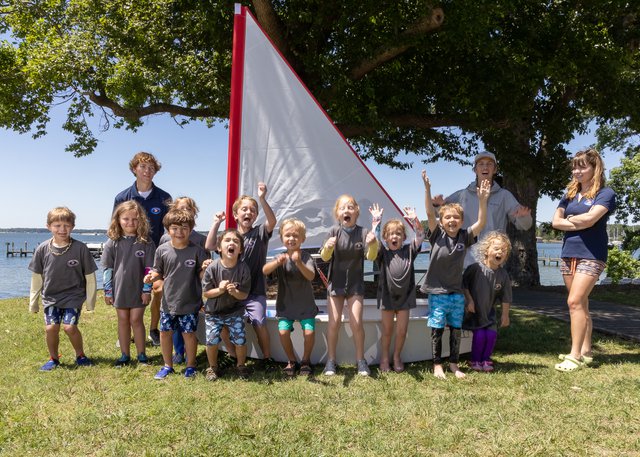 Full-day, 1 week session (Monday-Friday) in late June. Junior Week was the genesis of the camps and programs we run today, and is the key "kick off" of our summer camps. Sailors may choose from Beginner Opti, Intermediate Opti, Advanced Opti, Advanced Opti Racing, Beginner Laser, Advanced Laser, 420s, Explorers Sailing in bigger boats, or assist as a Counselor-in-Training. Counselors are made up of a combination of professional national and international coaches, US Sailing instructors, and experienced volunteers. Entertainment follows most nights after sailing, and include ice cream, pool parties, and a family cookout. For photos, click here. Open to the public. Ages 6 to 18.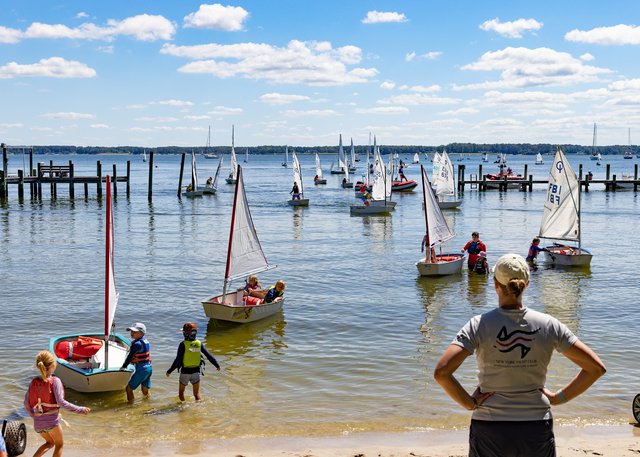 2, 3 & 5 day camp sessions, June through August, in groups of up to 8 sailors.  Many campers do multiple weeks/camp sessions.  The programs are tailored to the group, from a eight-year-old taking their first tentative steps in sailing off our beach, to a pre-teen looking to build the confidence to sail solo on Fishing Bay, to an 18-year-old honing her racing skills, and everyone in-between! Open to the public. Ages 6 to 18.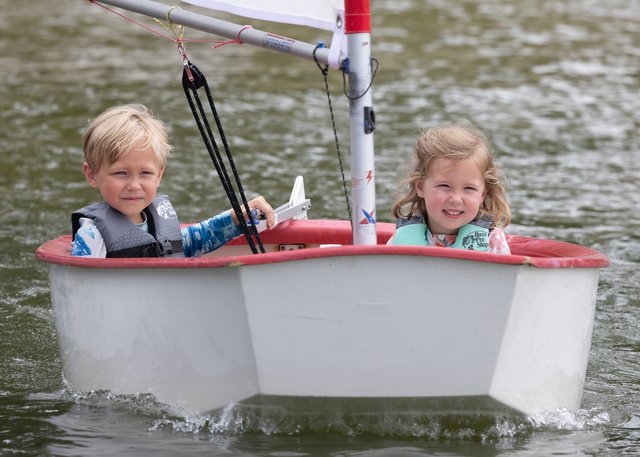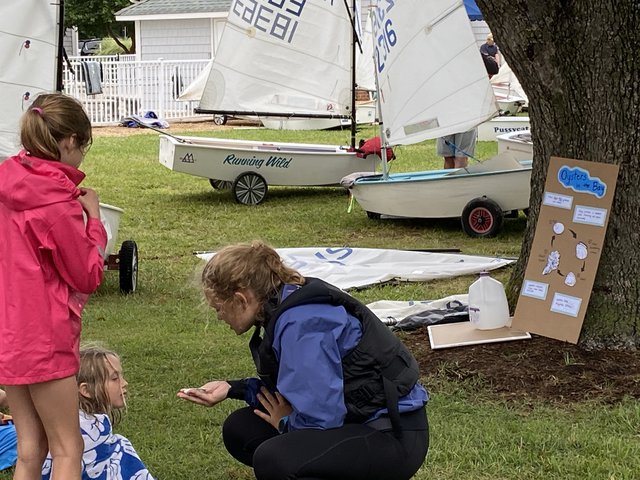 After Jr Week through mid-August.  Highly recommended to do Jr Week also as it is a great "kick-off" week. Originally conceived as a stepping stone to the Opti Race Team, the Development Team has grown into a force of its own! The sailors meet Thursdays through Sundays, and in consideration of working parents and tired sailors, no session or regatta is mandatory.  There will be opportunities to attend regattas close to Fishing Bay, where overnight stays are not required. The team is coached by college-level sailors who are often graduates of our Junior Division and work closely with the sailors to develop their individual skills and confidence on the water, including introducing racing techniques. We have the option to subdivide the team based on age and experience so that all can learn in a safe and friendly environment.  Open to the public. Ages 7 to 15 (Opti) and 12-18 (Lasers).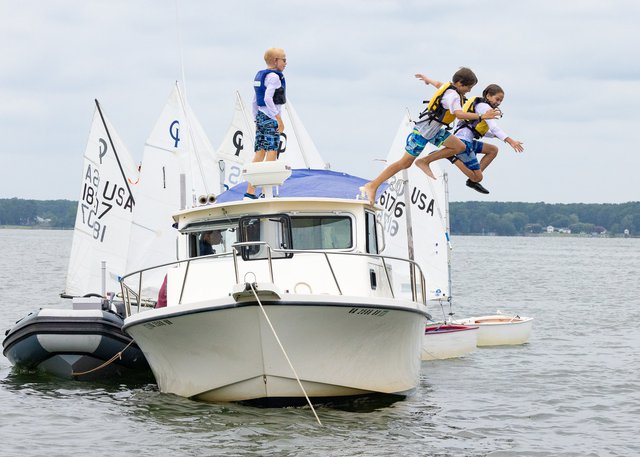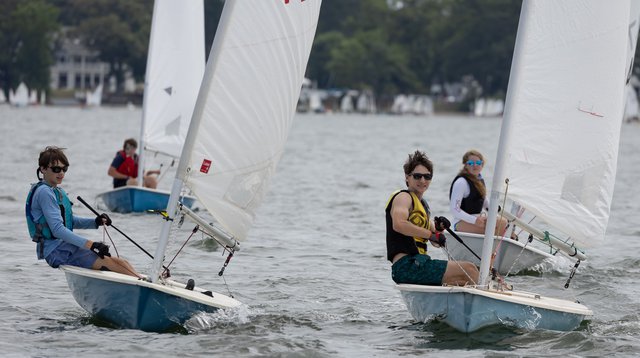 Mid-June through mid-August. Fishing Bay Yacht Club's Junior Race Teams have grown into regional and nationally renowned organizations, attracting the best coaches. Every year since 2007 a Fishing Bay Yacht Club team member has won either the Opti, Laser or c420 division of the Chesapeake Bay Yacht Racing Association High Points. In addition to racing across the Chesapeake Bay, the teams will travel to national regattas. The sailors are very dedicated and serious racers. The teams will practice, travel, or race for extended periods, normally taking one day off per week. The coaches concentrate on individualized instruction centered on advanced racing techniques and preparation for top level competition. For photos, click here. Ages 9 to 18.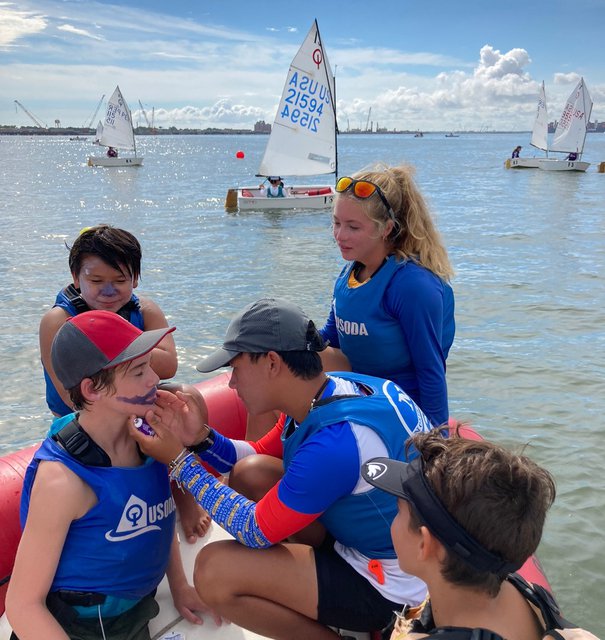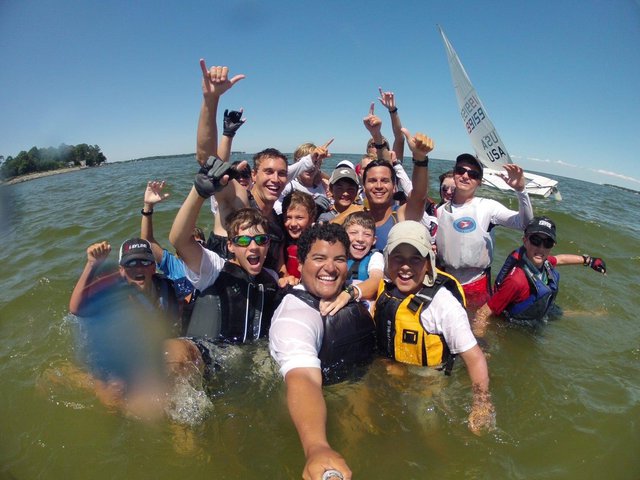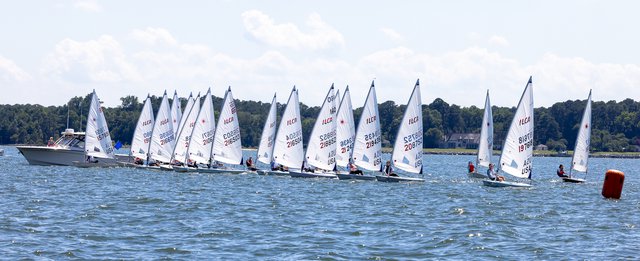 FBYC ANNUAL JUNIOR REGATTA: 2-day regatta on a late June weekend directly following Junior Week. We encourage all Junior Week sailors to attend, and will offer a Green Fleet seminar and on-the-water coaching for novice racers (and their parents!) making that first scary step into regatta racing. Additional racing will include Red, White, and Blue Opti Divisions, Laser Radials, and 420's. Open to all juniors. Club boats will be available for those without their own (on a first-come, first-served basis).
AOD (ANNUAL ONE-DESIGN REGATTA): late July, 2-day regatta. This is a fun one with a band and lots of different fleets to sail in. Many adults would even welcome juniors on their boats, and we will support Opti Green, Red, White, and Blue Divisions, Laser Radials, and 420s.
SPRING, FALL & FROSTBITE REGATTAS:  In addition to the above, Fishing Bay Yacht Club will host a number of spring, fall and frostbite regattas this year in which juniors are invited to participate in Optis, Lasers, and 420s.
All are welcome at all our camps & programs! Parents and guardians are encouraged to join in the fun and attend and volunteer.