----NOTE:   Please use the links below while we make improvements
If  they payment option does not work ( $100/year annual fee for members, and sailing school fee for non members), simply select the options and enjoy our boats.  We will contact you soon to collect the fees , either by check or our on line credit card feature when it is working.  Thanks for your patience--enjoy our boats & provide feedback to help us improve this service.
======================================================================================================
 Sign up links for Club boat and Adult Sailing School offerings( Program details below links): 
--Members click here to pay annual subscription fee Purchase Club Boat Subscription(Details below)
--Members click here to  reserve boats or request Sailing School Session Club Boat Reservation & Saturday Sailing School (Details below) 
--Non members click Here to request Sailing School Sessions Club Boat Reservation & Saturday Sailing School (Details below)
Club Boat Program Explained: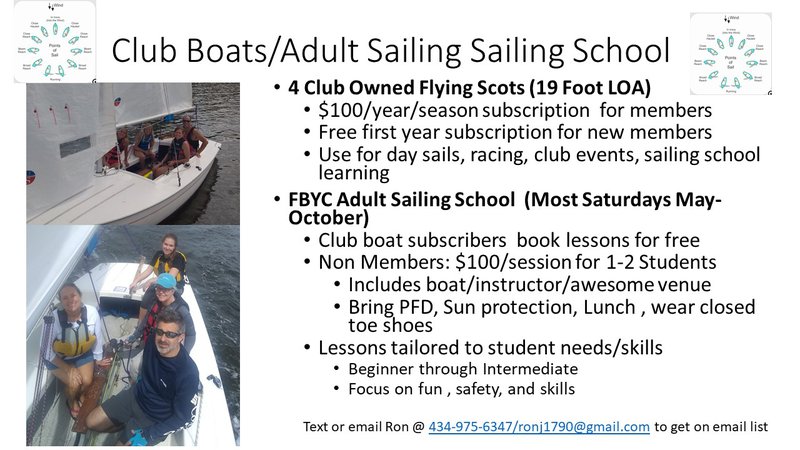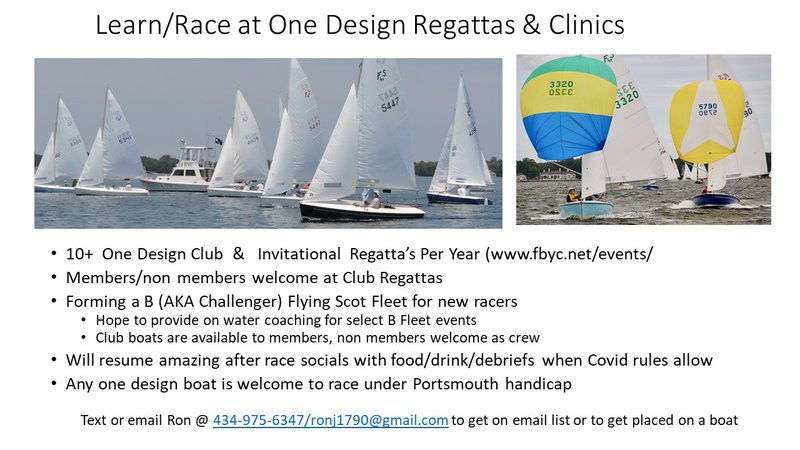 ==
OLD SIGNUP online reservation form and float plan here
General guidelines for reserving and using Club Owned Flying Scot follow. Please review  before reserving one of our boats.
Club-owned vessels are available Opening Day to Closing Day, from 10AM to 3PM if launched/retrieved by Staff.  Contact Adult sailing director for special arrangements/certification to self launch/retrieve.   Standard reservation includes Staff tractor operator.
Club-owned vessels may be operated in any appropriate navigable water
The skipper must be a FBYC member in good standing, carry a current boating license, have paid the $100 family seasonal use fee, and successfully completed a test sail with an Adult Sailing instructor.
All reservations and fees must be submitted by the skipper at least 48 hours in advance
The skipper files a Float Plan with the General Manager.  Crew & skipper must complete and sign a Liability Wavier Form prior to departure
While underway all passengers shall wear USCG-approved life jackets
Upon return, Skipper shall contact shall contact a Manager, clean the vessel as necessary, inform FBYC staff of any issues or damage, stow the sails, cover and secure the vessel (Skipper/crew will assist Staff tractor operator to retrieve/stow the boat)
The liability wavier can be found here.