SIGN UP LINKS 
--Members click here to pay annual subscription fee Purchase Club Boat Subscription(Note 1) 
--Members click here to  reserve boat:Reserve Club Flying Scot Here   (Note 2, and Training Day Photo) 
--PRIVATE LESSONS  FOR Members & Non Members:  (See Note 3, and photos below)  Click here to reserve a date and time  , or to pay fees upon course completion of the lesson: Request Private Lesson Here   
Private Lesson Photo (Standard Lesson focuses on Basic Skills required to Enjoy day sailing):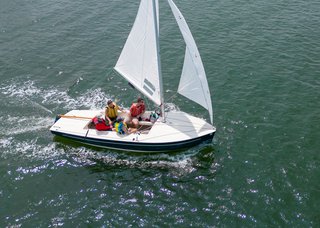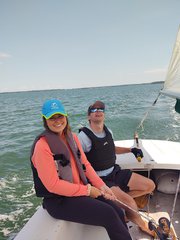 Sailing Festival & Training Days Provide an opportunity to meet FBYC members, especially members of Flying Scot Fleet 103 for a daysailing outing (nominal fee for a coached boat), usually a beach visit, and an awesome social with food and drinks back at the main club house.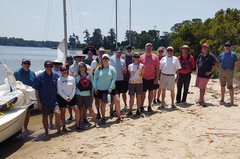 SIGN UP DESCRIPTIONS
Note 1--Club Boat Subscription (Members Only)
Returning members may purchase an annual Club Boat Subscription for $100/season.    First year members please click $0/season to secure your complimentary subscription and access to Club Flying Scots.
Note 2--Reserve Club Flying Scots (Subscribing Members Only)
Subscribers reserve boats on  the Sign Up Genius platform.  Club Flying Scots are available to Club Boat Subscribers for unlimited use, on a first come first served basis, from May 1 through October 31.   Some dates may be reserved for our Sailing Education program.   
Complete usage procedures are being revised to better serve our subscribers , and will be posted soon.    Staff assisted launch/retrieval remains an option.
Note 3 -- Adult Sailing School   (July through mid August)   Collegate Coaches Josh Almany  and Jack Cabell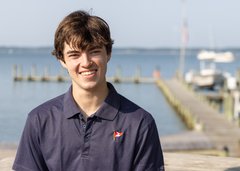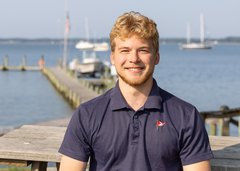 The Adult Sailing Division offers structured sailing classes in the Club's Flying Scots.
Our US Sailing Certified Instructors will conduct classes in Fishing Bay. These lessons are highly individualized – generally one or two students per instructor in a boat.   More advanced students might sail together (up to 3 per boat), with an instructor in a coach boat.
These lessons can be stand alone, or a follow up to less formal instruction received in one of our adult sailing Festivals or clinics.   They can also function as "Check Sails" for members enrolled in our Club Boat Program—preparing members for independent use of the club Flying Scots.
Our July classes are taught by Collegiate Racers.  They can help new racers improve start, mark rounding, sail trim and related racing skills.
Our small classes focus on individual sailors' goals, skills and low-pressure fun on the water.     The fun begins when you greet your instructor.
Preparations: All sailors must bring their own lunch, a water bottle, PFD and wear closed toe shoes.   Snacks and sunscreen are also recommended.    
*Note:  You may request Check Sails/private session outside these dates @ ronj1790@gmail.com (subject to volunteer instructor availability) Also check FBYC event page for Clinics & Sailing Festivals.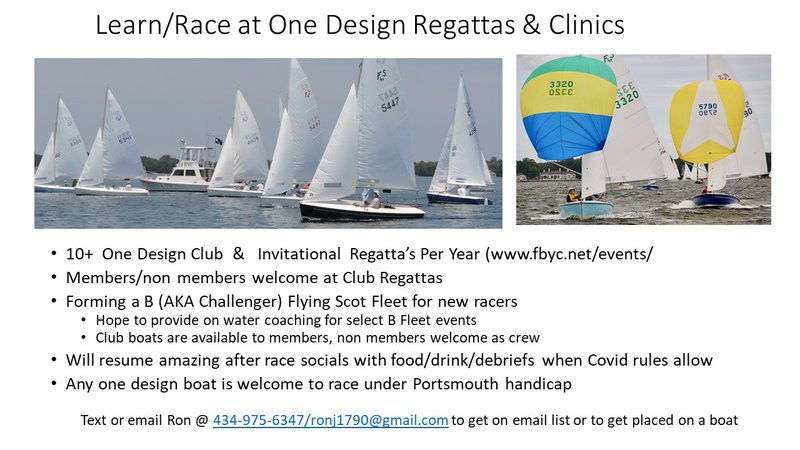 ==
General guidelines for reserving and using Club Owned Flying Scot follow. Please review  before reserving one of our boats.
Club-owned vessels are available May 1 through October 31, from 10AM to 3:30PM if launched/retrieved by Staff.  Contact Adult sailing director for special arrangements/certification to self launch/retrieve.   Standard reservation includes Staff tractor operator.
Club-owned vessels may be operated in the general Fishing Bay, Godfrey Bay/Piankatank area near the Club Docks
The skipper must be a FBYC member in good standing, carry a current boating license, have paid the $100 family seasonal use fee, and successfully completed a test sail with an Adult Sailing instructor.
All reservations and fees must be submitted by the skipper at least 48 hours in advance for Staff Launch--same day reservation for Self launch/retrieve
The skipper shall file a Float Plan in the "Float Plan" box in the pool house (AKA Rick's Place).  Crew & skipper must complete and sign a Liability Wavier Form prior to departure
While underway all passengers shall wear USCG-approved life jackets
Upon return, Skipper shall contact shall contact a Manager, clean the vessel as necessary, inform FBYC staff of any issues or damage, stow the sails, cover and secure the vessel (Skipper/crew will assist Staff tractor operator to retrieve/stow the boat)
The liability wavier can be found here.