FBYC History....
Jere Dennison
It was a dismal morning in early May, 1967. A small group of sodden FBYC sailors gathered in the large shed at the head of Ruark's Marine Railway on Fishing Bay to await word from the RC (the committee boat, Black Cat, was based at the marina there) as to the possible cancellation of the Cruising Class Spring Series race that day. Outside a gale wind raged from the northeast quadrant. Frankly, no one was going to be upset if the race was going to be called, but we were growing impatient for a decision.
Amid our profane mutterings about the weather, we hardly noticed a dinghy beaching on the nearby shore. At anchor, in the offing, lay a large salty-looking ketch, her topsides painted a bright scarlet. Through torrents of rain and into the gloom of the shed, strode a tall, gangly white-haired man dressed in wet oilskins, water dripping from a ponderous aquiline nose protruding from under his rain hood. .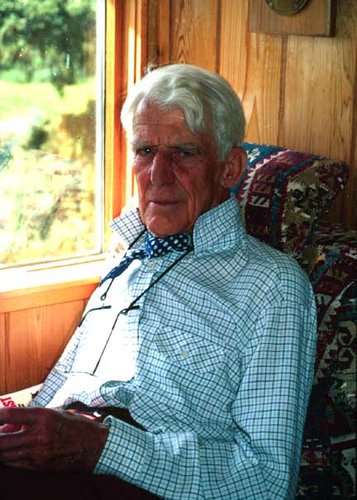 Allan McCullough (Commodore 1951 and Cal 40 skipper) announced to us in hushed reverent tones that the approaching dignitary was none other than a retired Brigadier in the British Army, now a Canadian citizen, by the name of Miles Smeeton. He and his wife Beryl had pitchpoled their ketch, Tzu Hang, twice in the roaring 40's ten years previously while attempting to round Cape Horn and had written a book about their experiences.
Whether Allan had met Miles previously or was just made aware of the Smeetons visit to the neighborhood, I do not know. Nevertheless, Allan and Miles conversed for a period of time while we in the peanut gallery just listened intently to the soft-spoken Brit who mesmerized us more by his aristocratic but humble demeanor than by the words that emanated from his 6 foot 7 inch frame. Both literally and figuratively, we all looked up in awe at this giant of a man.
I am chagrined to say that I have never read any of Miles Smeeton's books, especially his most classic work on the ill-fated Cape Horn passage, Once is Enough, first published in 1959 but amazingly still in print. What prompted this article was a book that an unknown donor left in the FBYC library with a stack of other books this past fall. The book is entitled High Endeavors: The Extraordinary Life and Adventures of Miles and Beryl Smeeton by Miles Clark, Miles Smeeton's godson, published in 1992. Remembering my brief encounter with Miles Smeeton so many years ago, I checked out the book to satisfy my enduring curiosity about Tzu Hang and her owners. I found out that there was more to the Smeetons than just sailing.
Miles and Beryl were members of an elite pantheon of adventurers in the mid-twentieth century whose exploits under sail pioneered the way for the popularity of ocean voyaging today. Other influential sailor/writers during this period, when few were crossing oceans or doubling the Horn or circumnavigating for pleasure, were Eric Hiscock, Sterling Hayden, Sir Francis Chichester, Tristan Jones, Warwick Tompkins, Bernard Moitessier, and Robin Knox-Johnson. In fact the Smeetons, when they finally rounded the Horn, the "hard way," in a subsequent 1968 East - West passage, actually preceded by weeks triumphant roundings in the same direction by Knox-Johnson and Moitessier. Although they weren't life-long sailors, having bought their first and only boat, Tzu Hang, in their mid-forties, the Smeeton's globe-girdling adventures took them over 130,000 miles in a twenty year period. During this period at sea, they wrote 11 books and were awarded the Bluewater Medal of the Cruising Club of America, the Royal Cruising Club Medal of Seamanship, and the Liga Maritima de Chile.
Born in Yorkshire, England shortly after the turn of the 20th century, Miles Smeeton's distinguished army career took him to India, Africa, the Middle East, and culminated in Burma during World War II when the Japanese Army Chief-of-Staff there surrendered his sword to him at the conclusion of hostilities. During his army life, he and his wife Beryl found the time to become inveterate adventurers, globe trekking and mountain climbing throughout the world. Several of their terrestrial wanderings became topics for books published by the Smeetons in the 1960's.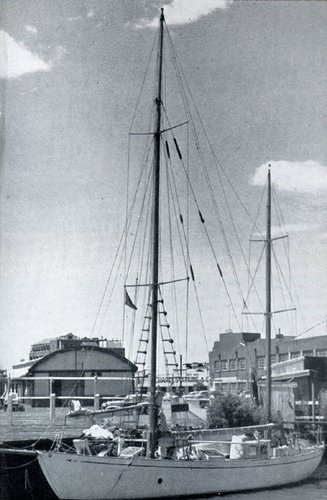 After Miles' army life was over and bedeviled by financial challenges on a modest military pension, the Smeetons, although novice sailors, determined that they could continue to satisfy their wanderlust at the lowest possible cost by living afloat on a sailboat capable of transporting them around the globe. In 1951, they purchased Tzu Hang, a 46-foot wooden cutter-ketch with a canoe stern built in 1938 in Hong Kong and displacing 18 tons. She was a robust vessel perfectly suited for ocean passages, and a few years later they had sailed her through the South Seas to Australia after selling a small unprofitable farm in Canada where they now claimed citizenship.
In December 1956 they embarked on their most famous voyage of survival. Departing Melbourne, Australia they headed east for Cape Horn bound for Britain with a sailing friend and amateur boat builder, John Guzzwell. At that time very few small sailboats had successfully rounded Cape Horn, and none had sailed as far south as Tzu Hang--just north of the Antarctic iceberg limit. Six weeks later, in the icy seas several hundred miles west of Cape Horn, Tzu Hang was caught from astern by a huge rogue wave that pitchpoled her.
Beryl, who had been alone at the tiller, was thrown thirty yards into the sea. Despite a broken collarbone, she managed to swim to the wreckage of masts and rigging in the water where Miles and John could heave her on board. Tzu Hang was a shambles: the tiller, rudder, doghouse, anchor, compass, and dinghies had all been ripped away; the masts had broken off level with the deck; and the boat was close to sinking. Working beyond exhaustion, the crew emptied the water - bucket by bucket, salvaged what they could, built a new doghouse, fashioned a jury rig, and five weeks later sailed into Arauco Bay on the Chilean coast.
After ten months of repair work in a Chilean navy yard, Miles and Beryl Smeeton (without John Guzzwell) sailed again toward Cape Horn and again were capsized, dismasted, and nearly sunk by another rogue wave. Once more, they survived the disaster and sailed 2,000 miles to Valparaiso, Chile. Tzu Hang completed her trip on the deck of a freighter to Britain where she underwent extensive repairs and modifications. Most people would have hung up their oilskins forever after these horrifying experiences, but instead they seemed only to whet the Smeetons appetite for their future voyages.
Readers will no doubt wonder, as I did for many years, why Tzu Hang was anchored in Fishing Bay that inclement day over 30 years ago. Miles Clarks biography of the Smeetons sheds some light on the question. Evidently Tzu Hang was nearing the end of an eight year circumnavigation that began in 1959 in which the Smeetons visited nearly every major port in the world. On the way back to Britain where the voyage had begun, they traversed the Panama Canal and labored north through the Yucatan Passage and the Florida Straits to Charleston and thence to the Chesapeake Bay for a scheduled reception at the National Geographic Society in Washington, D.C. Smeeton was reported later to have remarked that the Bay was "like another street in our village." Of course, we would like to think that he was aware that his voyaging would never be complete until he had visited one of the most pleasant harbors on the planet lying at the mouth of the Piankatank River.
Epilogue: After rounding the Horn in 1968 and returning to Canada via Victoria, B.C., the Smeetons sold Tzu Hang and purchased ranch land near Calgary in the foothills of the Canadian Rockies. Here they established a private wildlife trust to protect indigenous wildlife and reintroduce endangered species back into the wild. Beryl Smeeton died in 1979 and Miles in 1988. Their wildlife trust still exists today as the Cochrane Ecological Institute (www.ceinst.org) and is managed by the couple's daughter and only child, Clio. The whereabouts of Tzu Hang is unknown.
###