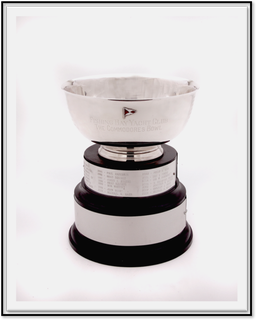 Presented in 1949 by the Commodores of the Club who held office from its organization in 1938 to 1949.
The award is made annually to the outstanding Skipper in Fishing Bay Yacht Club sponsored sailing events for the year, based upon performance and participation.
The selection shall be made by a committee comprised of the Commodore, Vice-Commodore, Fleet Captain, and Fleet Commander of the appropriate fleet.
The Commodores' Bowl will be awarded on an alternating year basis to the Cruising and One-Design Skipper, starting in 1976 with the One-Design Division.
| | | |
| --- | --- | --- |
| 1949   |   | Reid A. Dunn |
| 1950 |   | J. Marshall Moseley |
| 1951 |   | Constance Hicks |
| 1952 |   | Lloyd N. Emory |
| 1953 |   | J. Marshall Moseley |
| 1954 |   | Constance Hicks |
| 1955 |   | Constance Hicks |
| 1956 |   | Anne & Margaret Eppes |
| 1957 |   | George C. Roper, Jr. |
| 1958 |   | Anne Eppes |
| 1959 |   | Anne Eppes |
| 1960 |   | Roger Moorman |
| 1961 |   | Andrew Sinnickson |
| 1962 |   | Roger Moorman |
| 1963 |   | Andrew Sinnickson |
| 1964 |   | Frank D. Hargrove |
| 1965 |   | Raymond J. Munsch |
| 1966 |   | G. R. and B. D. Prout |
| 1967 |   | Charles Modjeski |
| 1968 |   | John Hawksworth |
| 1969 |   | B. Matthew Hulcher |
| 1970 |   | Raymond J. Munsch |
| 1971 |   | Peter Roughton |
| 1972 |   | Chuck Raynor |
| 1973 |   | Stuart Tyson |
| 1974 |   | Fred L. Williams, Jr. |
| 1975 |   | Matt Bounds |
| 1976 |   | Raymond J. Munsch |
| 1977 |   | Charles S. Squires |
| 1978 |   | Matthew Bounds |
| 1979 |   | Brent Halsey & Mayo Tabb |
| 1980 |   | F. Case Whittemore |
| 1981 |   | John R. Hawksworth |
| 1982 |   | James T. Poindexter, III |
| 1983 |   | H. Seward Lawlor |
| 1984 |   | Bob W. Walker |
| 1985 |   | Harrison Hubard, Jr. |
| 1986 |   | F. Case Whittemore |
| 1987 |   | Thomas E. Whittle |
| 1988 |   | Alain Vincey |
| 1989 |   | James F. Lipscomb, Jr. |
| 1990 |   | Gene Roberts |
| 1991 |   | Brenton S. Halsey |
| 1992 |   | H. Bradshaw Squires |
| 1993 |   | Kathleen S. Whittle |
| 1994 |   | William F. Bowie |
| 1995 |   | Paul Andersen |
| 1996 |   | H. Bradshaw Squires |
| 1997 |   | James E. Rogers |
| 1998 |   | H. Bradshaw Squires |
| 1999 |   | Robert M. Whittet |
| 2000 |   | John C. Beery |
| 2001 |   | Michael W. Karn |
| 2002 |   | Philip H. Webb |
| 2003 |   | Eric R. Powers |
| 2004 |   | Lee M. Farinholt |
| 2005 |   | D. Bradford Miller |
| 2006 |   | Jonathan M. Deutsch |
| 2007 |   | J. Bradley Davis |
| 2008 |   | Michael B. Miller |
| 2009 |   | Wayland W. Rennie |
| 2010 |   | Mathew J. Braun |
| 2011 |   | D. Bradford Miller |
| 2012 |   | John B. Wake, Jr. |
| 2013 |   | Robert J. & Lisa Fleck |
| 2014 |   | Len Guenther |
| 2015 |   | Robert J. & Lisa Fleck |
| 2016 |   | Charles Brewer |
| 2017 |   | Craig Wright |
| 2018 |   | John Wake |