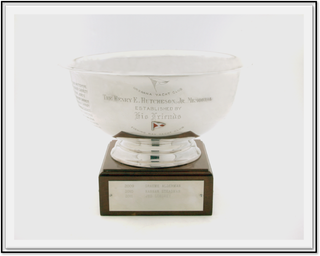 By Declaration of Trust, dated November 7, 1947, the Club, under its original name, Urbanna Yacht Club, established the Henry E. Hutcheson, Jr. Memorial Trophy, presented by his friends.
Award of the trophy is for outstanding performance in the one-design award class for the season. The Trust gave the Club the right to change the award whenever for three successive seasons less than three yachts in the class sailed the races required for eligibility. To be eligible, a yacht must be enrolled in the Club Register, in the current award class and must sail in at least 50% of the races in (1) at least two regattas Sanctioned by CBYRA or national or class authority and (2) in at least two Club series of races; a single race having the standing of a regatta or of a Club series counts as such. Hampton One-Design was designated the award class in 1947. Jollyboat became the award class in 1959. The Optimist became the award class in 1989.
The trophy winner is the skipper with the highest standing determined by giving equal weight to Sanctioned regattas and intraclub races, as stated in the requirements and scoring formula of the Trust. The level of participation in regattas outside the Club will be a criterion in determining the trophy winner.
| | | |
| --- | --- | --- |
| 1948 |      | Lloyd Emory |
| 1949 |   | William C. Chewning |
| 1950 |   | Alan Hicks |
| 1951 |   | George C. Roper |
| 1952 |   | Lloyd Emory |
| 1955 |   | George C. Roper, Jr. |
| 1956 |   | C. Perry Sinnickson |
| 1959 |   | Ralph Lynn |
| 1960 |   | "Dinky" Vail |
| 1962 |   | Howard McCue, III |
| 1963 |   | Howard McCue, III |
| 1965 |   | John Hawksworth |
| 1966 |   | Raymond J. Munsch |
| 1967 |   | John Hawksworth |
| 1968 |   | John Hawksworth |
| 1969 |   | John Hawksworth |
| 1970 |   | John Hawksworth |
| 1971 |   | Graham Henderson |
| 1972 |   | Graham Henderson |
| 1973 |   | Graham Henderson |
| 1974 |   | David L. Anderson |
| 1975 |   | David L. Anderson |
| 1976 |   | Not Awarded |
| 1977 |   | Not Awarded |
| 1978 |   | Mark Pittman |
| 1979 |   | Not Awarded |
| 1980 |   | Not Awarded |
| 1981 |   | Not Awarded |
| 1982 |   | Not Awarded |
| 1983 |   | Not Awarded |
| 1984 |   | Not Awarded |
| 1985 |   | Not Awarded |
| 1986 |   | Not Awarded |
| 1987 |   | Not Awarded |
| 1988 |   | Not Awarded |
| 1989 |   | Robert Whittemore |
| 1990 |   | Parker Garrett |
| 1991 |   | Ryan Jones |
| 1992 |   | Parker Garrett |
| 1993 |   | Parker Garrett |
| 1994 |   | Parker Garrett |
| 1995 |   | Blair Hamilton |
| 1996 |   | Blair Hamilton |
| 1997 |   | Jeffrey Richard |
| 1998 |   | Strother Scott, Jr. |
| 1999 |   | Ashton Hudgins |
| 2000 |   | Ashton Hudgins |
| 2001 |   | Alexander O'Toole |
| 2002 |   | Quentin Jenkins |
| 2003 |   | Quentin Jenkins |
| 2004 |   | Austin Powers |
| 2005 |   | Madeleine Alderman |
| 2006 |   | Alex Jacob |
| 2007 |   | Benjamin Buhl |
| 2008 |   | Alex Jacob |
| 2009 |   | Graeme Alderman |
| 2010 |   | Hannah Steadman |
| 2011 |   | Jed Londrey |
| 2012 |   | Hannah Steadman |
| 2013 |   | Benton Amthor |
| 2014 |   | Benton Amthor |
| 2015 |   | Benton Amthor |
| 2016 |   | Guthrie Braun |
| 2017 |   | Joshua Bendura |
| 2018 |   | Madeline Amthor |