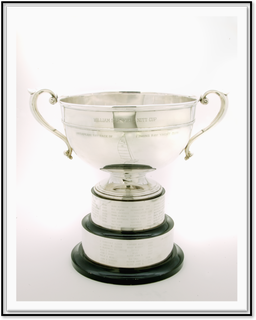 Presented in 1965 in memory of William Sarsfield Nott by Frank Nott and Mrs. W. S. Nott. This trophy was initially awarded to the winner of the long-distance offshore race in the Cougar Catamaran Class. In 1982, the Trustees of Fishing Bay Yacht Club changed the award to the MORC Class. In 2007, the Trustees changed the award to an active one design Class and the Flying Scot Class was designated to compete for the trophy.
This award is made to the Flying Scot rated yacht enrolled in the Club Yacht Register that finishes the greatest number of FBYC sponsored Flying Scot events during the calendar year, both Sanctioned and Non-Sanctioned events to be counted.
If two or more yachts finish the same number of events, the one accumulating the best point score, as specified in the FBYC Sailing Instructions, shall be declared the winner. In the event of a second tie, a race shall be sailed to determine the winner. The Vice Commodore, if he is not a competitor, or the Commodore shall specify the conditions of this race.
| | | |
| --- | --- | --- |
| 1964 |    | Frank D. Hargrove |
| 1965 |   | Frank D. Hargrove |
| 1966 |   | Arthur Murry, Cedarhurst YC |
| 1967 |   | Arthur Murry, Cedarhurst YC |
| 1968 |   | Richard W. Barnes |
| 1969 |   | Robert Hendrickson (PRSA) |
| 1971 |   | W. A. Frankenfield |
| 1972 |   | Julian Brylawski |
| 1973 |   | Frank D. Hargrove |
| 1974 |   | Ray Tyson |
| 1975 |   | Clarke McKinney |
| 1976 |   | Not Awarded |
| 1977 |   | Not Awarded |
| 1978 |   | Not Awarded |
| 1979 |   | Not Awarded |
| 1980 |   | Not Awarded |
| 1981 |   | Not Awarded |
| 1982 |   | Hooligan Syndicate |
| 1983 |   | John R. Hawksworth |
| 1984 |   | John R. Hawksworth |
| 1985 |   | Robert D. Kates |
| 1986 |   | Robert D. Kates |
| 1987 |   | Albert D. Seim, II |
| 1988 |   | David Lee/John Adair |
| 1989 |   | David Lee/John Adair |
| 1990 |   | William C. Spencer II |
| 1991 |   | Albert D. Seim, II |
| 1992 |   | Roger W. French |
| 1993 |   | Douglas I Magargee |
| 1994 |   | Blackwell Nottingham |
| 1995 |   | William C. Spencer II |
| 1996 |   | Paul Anderson |
| 1997 |   | Frank Glawson |
| 1998 |   | F. Case Whittemore |
| 1999 |   | Michael W. Karn |
| 2000 |   | R. Russell Collins |
| 2001 |   | R. Russell Collins |
| 2002 |   | A. Clark Dennison & Chris C. Clough |
| 2003 |   | Jason S. Angus & William H. Angus |
| 2004 |   | Blackwell Nottingham |
| 2005 |   | Mark G. Wensell |
| 2006 |   | Not Awarded |
| 2007 |   | John C. Beery |
| 2008 |   | Philip H. Webb |
| 2009 |   | John A. Hubbard |
| 2010 |   | John C. Beery |
| 2011 |   | Len Guenther Jr. |
| 2012 |   | Philip H. Webb |
| 2013 |   | Philip H. Webb |
| 2014 |   | Sharon S. Wake |
| 2015 |   | John C. Beery |
| 2016 |   | John B. Wake, Jr. |