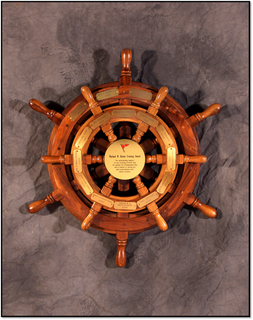 Presented in 1997 by the Cruising Division as a perpetual trophy to be awarded annually to the Fishing Bay Yacht Club member for support of the Cruising Division and for cruising the Chesapeake Bay with a sense of adventure in comradeship with fellow sailors.
The perpetual trophy is a ship's wheel with the name and purpose engraved on a center plate. Each year, a small plate engraved with the annual recipient's name and the year of the award will be placed around the wheel's outer edge. The recipient will also receive an engraved pewter cup to retain permanently.
The Trophy Committee is encouraged to consult with the Cruising Division Commander and Lt. Commander in reaching its decision.
The Board of Trustees may change the provisions of the award, if at any future date it becomes expedient to do so.
| | | |
| --- | --- | --- |
| 1997 |    | Wayland W. Rennie |
| 1998 |   | Charles R. Jones |
| 1999 |   | Jamie Stalnaker |
| 2000 |   | Victor G. DeNunzio |
| 2001 |   | Allen M. & Alta Bower |
| 2002 |   | Gordon & Sheila Nelson |
| 2003 |   | Samuel M. & Nancy Stoakley |
| 2004 |   | Fay & John Koedel, Jr. |
| 2005 |   | Victor G. & Jane DeNunzio |
| 2006 |   | Anthony D. Sakowski Jr. |
| 2007 |   | Henry J. & Carolyn Schott |
| 2008 |   | Samuel M. & Nancy Stoakley |
| 2009 |   | John G. Koedel Jr. |
| 2010 |   | John G. Koedel Jr. |
| 2011 |   | Henry J. & Carolyn Schott |
| 2012 |   | Gordon B. Jr. & Jane Cutler |
| 2013 |   | Samuel L. Stoakley, Jr. |
| 2014 |   | George and Francis Sadler |
| 2015 |   | William & Lydia Strickland |
| 2016 |   | Anthony D. Sakowski, Jr. |
| 2017 |   | William T. Bennet |
| 2018 |   | Helen & Dacre Walker |