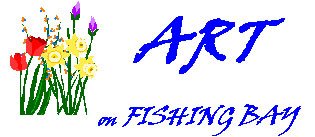 WEDNESDAY, JULY 9TH 6:00 - 9:30 pm FISHING BAY YACHT CLUB DELTAVILLE, VA
The Leukemia & Lymphoma Society and the FBYC Wednesday Night Dinner Group would like to invite you to "Art on Fishing Bay". All members and guests are asked to bring their favorite hors d'oeurve to share; there will be a cash bar provided by the Leukemia Society. Contact Bob Kates at fma@oonl.comor 804-776-6950 to RSVP.
Participating Artists
THE BELLEVUE SQUARE QUARTET will perform for our listening pleasure. FBYC member Francis Church on cello, Rev. Tom Smith on flute, Ann Archer on violin and Hal Carle on viola.
KATHLEEN NOFFSINGER has been drawing and painting all her life. Recent works include colorful watercolor paintings relating to the natural world of the Chesapeake Bay and the Florida Keys. Her paintings have been purchased for both private and corporate collections worldwide and featured in many publications including the Chesapeake Bay Magazine". She is a popular workshop instructor for art leagues in VA and MD, and a signature member of the VA Watercolor Soc., an associate member of the National Watercolor Soc. and was voted into the National League of American Pen Women in 1999. Her work may be viewed in her online gallery at www.kathleennoffsinger.com. For information she may be reached at her studio in Hartfield, VA (804) 776-7191.
RITA A. D'AMICO of Chapel Creek Pottery and Crafts is also inspired by the plants, birds, animals and sea creatures in and near the Chesapeake Bay. Working with stoneware clay, she designs Raku sculpture and both functional and decorative pottery. Many pieces incorporate living plants to imprint their unique designs on the pots. Water birds are made in Raku, with the body of the bird hand thrown on the potter's wheel, altered with slabs of clay and inscribed in the surface for texture and details. Formerly an art education teacher, Rita now devotes her time to her art in her studio. She may be reached at P.O. Box 359, Cobbs Creek, VA 23035.
LENYON M. WALSH, JR. is inspired by the workboats of a bygone area. This talented model boat builder has been handcrafting replicas of the deadrise workboats and buy boats of the Chesapeake Bay exclusively for the last three years. A new owner of a restored deadrise, the "Virginia Ann", Lenyon knows first hand the craftsmanship that went into these workhorses on the Bay. He exhibits his craft annually at the White Stone Waterfowl Show and was a featured artist at the Middlesex Art Guild Gala Auction and Art Show in Urbanna, VA in 2002.
GUY CRITTENDEN - Virginia artist and photographer has been documenting life on the Chesapeake Bay for more than 25 years. Growing up in Gloucester, VA, the young artist found opportunities to experience the unspoiled Rivers and Bays in a way that connected him to this region forever. With a concentration on wildlife and landmarks, Guy's work reflects both human achievement and harmony with nature. His fine art and photography can be found in private and corporate collections across the nation. Guy currently lives in Richmond, Virginia with his wife Melanie and three children, Lindsay, Alexis and Mellie.
JANE HALL - a member of FBYC for twenty years, jumped from Richmond to Deltaville seven years ago where she and her husband, Chip began the renovation of their Stove Pt. home. Jane was the interior decorator and painter for this four-year project. A Salem College graduate with a minor in Art, Jane has taught Art in Elementary Education and summer camps during her teaching career. The colors of Jane are to be found on canvas, furniture, and pottery. In this exhibit on July 9th she will tie together a variety of offerings with works from these categories.
DIXIE HOGGAN is a professional artist, travel planner, and owner of DEH Travel, Inc. She holds a BA degree in art history and painting from Mary Baldwin College and an MFA degree in painting and printmaking from Virginia Commonwealth University. For two years, she studied at the Academy of Fine Arts in Bologna, Italy. As a trip planner for universities, museums, and special interest groups, she has traveled and photographed extensively. Recently, she worked as an editor for the Travel Channel Online Network, which provided her with the opportunity to combine travel, image-making, and travel writing. Her latest project, "Swimmers," is a series of abstract forms that appear to be immersed in water.
EDWARD H. RATCLIFFE, otherwise known as Rip, internationally known, a sculpturer, painter, builder, furniture maker and all around bon vivant. Rip has been building and carving for forty years, recently has started watercolor painting, pencil drawing, and pastel painting. His works are primarily privately owned and it is with great pride that we here offer some for sale.
KATE HALSEY SMITH is a native of Richmond. Although she dabbled in art as a hobby for many years, she found her niche several years ago at For Art's Sake Gallery , located in Carytown, where she is studying under Anne Chaddock. Kate's art subjects are an extension of her passion for nature. Her inspiration came through her interest in photography, through which she documented her experiences on the water, including sailing, hunting, sport fishing and traveling to the Caribbean. Kate
lives in Richmond with her husband, Preston and six children, Katie, Mason, Kane, Sam, Jaclyn and Parke.
JANE McCULLOUGH WELLS - lifelong member of FBYC, remembers watching those wild Regatta parties Jere Dennison describes of the late fifties perched in the rafters of the old clubhouse with Drew Sinnickson and Nancy Roper. Now, somewhat older, she paints dog portraits in oil on masonite with painted frames and sells them at the Irvington Farmers Mkt. While her prime model is Chip and Jane Hall's Emma, , she has also attempted Lily Wells (a ratty Jack Russell), the Hoggan's Canty, the Strotmeyer Westies, and various other goldens, springers, black labs etc. that wander the point. Will attempt any dog except American Bull Terriers (that's a long story.) She is going to also bring some boat pictures to this show.
JOHN D. SHARP, SR - has photographed subjects and scenes in the Florida Everglades, Lake Okeechobee, West Indies, South America including the Galapagos Islands and the Andes Mountains of Ecuador, Yellowstone National Park, Arches National Park and the Chesapeake Bay, the Intracoastal Waterway, Florida Keys and the Bahamas. Mr. Sharps credits include White Egret, Best in Show in Richmond's Maymont annual photography contest, several ribbons in the Rappahannock Art Leagues annual Labor Day art shows; his photos of Baby Osprey and Red Sky were selected and featured in two calendars. More recently, his photograph of a Butterfly on a Red Dahlia was featured in the January 2003 issue of Virginia Wildlife as a first place winner in their annual photography contest. In 1994, he and his wife Karol moved to Deltaville and enjoy cruising to many places on the Chesapeake Bay where opportunities abound for photographing nature and wildlife.
JOAN MANNELL - Local Chesapeake Bay Artist finds inspiration for her paintings from her Deltaville surroundings. Long time resident of the area she finds subject matter for her artwork consisting of deadrise watercraft used by the Bay watermen, wildlife, marsh and creek scenes of the area. Joan's primary media is watercolor; however, she uses acrylics and oils for artwork on glass and wooden objects. She stays busy throughout the year doing 22 juried art shows in VA, MD, NC and FL. Her artwork is also on display in art galleries and museums in these areas. Her training was obtained through VCU and studying under accomplished artists and self-teaching.
DOROTHY FAGAN -a landscape artist lives in Mathews County. Fagan was elected to The Pastel Soc. of America awarded the Medal of Honor for Pastel by the Academic Artists'Assoc. early in her career. Her paintings have been represented in some of the nation's most prestigious art exhibitions including; The Pastel Soc. of America, The Pastel Soc. of Canada, The Salmagundi Club, The Virginia Museum of Fine Arts, The Contemporary Museum of Art, The National Arts Club, The Hermitage Museum, The Pastel Society of Kansas, The G.V.W. Museum of Art, The Copley Society. Dorothy's work can be found in the collections of: City University of NY, Emory U., Longwood, GE, Coldwell Banker, AAA of Tidewater, First National Exchange Bank, International Paper, Wintergreen Resort and in numerous private collections. For more information go to www.dorothyfagan.com.

WILLIAM BENJAMIN RICHARDSON known as Ben by most has spent a lifetime around the Chesapeake Bay. He began a career in woodcarving after taking a job sailing on tugs and barges in 1979. He purchased a pocket-knife and began whittling and carving. Living in Mathews, VA his numerous wildlife observations developed into a "self-taught" carving style and provides inspiration for his unique collectibles. He has won over 20 blue ribbons and awards for best in show. A recent carving was selected for the Admiral's cabin on the aircraft carrier, Theodore Roosevelt. An active member of the Mathews Art Gallery, with many works on exhibit in Virginia and NC.
ANN LAWMAN has painted for many years and works primarily with oils. Most recently she studied with Barkley Sheaks, Curney Nuffer and a seminar with Loryn Brazier. Ann had two solo shows exhibited at the Richmond Public Library and the General Assembly Bldg. and a number of other locations. Her work is in many private collections. She and her husband Matthew live in Richmond, VA.
AUDREY WRIGHT - Growing up a sea captain's daughter in Mathews Cty., VA, has given her a lifetime appreciation of her natural surroundings. Listening to talk of workboats and lighthouses, watchiong marsh birds in the creek and observing fog rolling out the Bay influences her work. She has sketched and painted all her life with very little formal art training. She may be reached at www.hwright@visi.net.
MARUTA RACENIS WINEBRENNER "Rudi Winebrenner" - BS in Art Ed. SUNY at Buffalo, NY, MFA Printmaking, Rochester Institute of Technology, Rochester NY. Teaching Experience: VA Museum Studio School, VCU, Richmond Public Schools, Rochester Public Schools. Co-owner of Main Art in Richmond. At the VA Museum Studio School, I have taught watercolor classes for the past four years. At Main Art and the Museum, most people know me as Rudi Racenis Winebrenner. Certain features - light time weather affect my senses and my landscapes. Even though I take forays into drawing and painting the figure or certain elements of still life, I seem always to return to the exploration of landscape. Many of the images in my paintings are of the Deltaville/Mathews area of Virginia. Some are actual sites - most are composites drawn from memory.