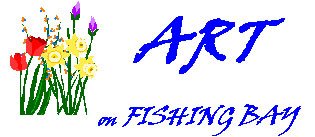 FRIDAY, JUNE 9,2006
5:30 - 9:00 pm
FISHING BAY YACHT CLUB
DELTAVILLE, VA

The Leukemia & Lymphoma Society and Fishing Bay Yacht Club present the following artists:
Performance by:
"Fishing Bay String Quartet" Violins: Harold Carle and Ann Archer; Viola: Heather Fairbanks; Cello: Francis Church
"Strings & Things" Violin I: Linda Douglas; Violin II: Lawrence Wood; Viola: Margaret Lawyer; Cello: Helen Quinby
Exhibiting Artists:
KATHLEEN NOFFSINGER - her colorful watercolor paintings and limited edition prints include wildlife and nature scenes from the Chesapeake Bay and Florida Keys. Her paintings have been featured in many publications including Chesapeake Bay magazine. She is a popular workshop instructor for art leagues and member of the Virginia &National Watercolor Societies. Her work may be viewed online at www.kathleennoffsinger.com. Kathleen accepts a limited number of commissions each year and may be reached at her studio/gallery in Hartfield, VA (804) 776-7191.
JOAN MANNELL - Local Chesapeake Bay Artist finds inspiration for her paintings from her Deltaville surroundings. Long time resident of the area she finds subject matter for her artwork consisting of deadrise watercraft used by the Bay watermen, wildlife, marsh and creek scenes of the area. Joan's primary media is watercolor; however, she uses acrylics and oils for artwork on glass and wooden objects. She stays busy throughout the year doing 22 juried art shows. Her artwork is on display in art galleries and museums. Her training was obtained through VCU and studying under accomplished artists and self-teaching.
JANE HALL jumped from Richmond to Deltaville nine years ago where she and her husband began renovation of their Stove Point home. Jane was the interior decorator and painter for this four-year project. A Salem College B.A. and a VCU Masters led her to a twenty-seven year Elementary teaching career in Richmond, some of which was spent teaching Art. After retirement Jane took up oil painting again, after a thirty-year pause. The colors of Jane are to be found on canvas, furniture and pottery. She has exhibited her work at "Art on Fishing Bay", Grace and Holy Trinity Church in Richmond, Deltaville Library, and Deltaville Maritime Museum and Holly Point Nature Park art show.
DIXIE HOGGAN a professional artist, travel planner, owner DEH Travel, Inc. She holds a BA degree in art history/ painting from Mary Baldwin and an MFA in painting/ printmaking from VCU. She studied at the Academy of Fine Arts in Bologna, Italy. A trip planner for universities, museums, and special interest groups, she has traveled and photographed extensively. She worked as an editor for the Travel Channel Online Network, providing her with the opportunity to combine travel, image-making, travel writing. Her latest project, "Swimmers," a series of abstract forms that appear to be immersed in water.
EDWARD H. RADCLIFFE, otherwise known as Rip, internationally known, a sculptor, painter, builder, furniture maker and all around bon vivant. Rip has been building and carving for forty years, recently has started watercolor painting, pencil drawing, and pastel painting. His works are primarily privately owned and it is with great pride that we here offer some for sale.
JANE McCULLOUGH WELLS - Jane Wells paints portraits of dogs (oil on masonite with painted frames) and sells them at the Irvington Farmers Market. She has recently expanded her repertoire to include cats, pigs and boats, etc.
CAROLYN DAVIS earned a BA in Art Education from Baldwin-Wallace College. She is currently active in the Bay School of the Arts and the Rappahannock Art League where her work has been on display. This past year she has enjoyed watercolor and sketching classes with local well-known artists Kathleen Noffsinger, Wendy Wells, and Phyllis G. Greenway, and Maine artist Carol Sebold.
BROCKETT MUIR JR. Naval Aviator, physician, and sailor, he began painting in Maine some ten years ago, then took several lessons at the Torpedo Factory in Old Town Alexandria and at the Museum of Fine Art in Richmond. He admires contemporary watercolor impressionists (Yardley, Chamberlain, Flint, and Seago) and Rembrandt' s classical drawings. His boat is "Trafalgar" and his dog is "Churchill." He lives in Saluda.
WILLIAM BENJAMIN RICHARDSON known as Ben by most has spent a lifetime around the Chesapeake Bay. He began a career in woodcarving after taking a job sailing on tugs and barges. He purchased a pocket-knife and began whittling and carving. Living in Mathews, VA his numerous wildlife observations developed into a "self-taught" carving style and provides inspiration for his unique collectibles. He has won over 20 blue ribbons and awards for best in show. A recent carving was selected for the Admiral's cabin on the aircraft carrier, Theodore Roosevelt. An active member of the Mathews Art Gallery.
TINA McCLOUD - Sailing brought Tina McCloud and her husband, John, to the North River in Mathews about 20 years ago. Her photographs and photo/haiku collages are exhibited at area galleries and juried shows, and some of her extensive portfolio can be viewed at www.photoartbytina.com. Tina hopes her photographs of the Chesapeake Bay and the world beyond will give you a soothing "sense of place" in uncertain times.
MARTHA & BILL HAYES are fulltime potters who produce functional stoneware pottery. Bill also creates one of a kind Raku pieces. Martha is a 1983 graduate of Alfred University with a BFA in Ceramics. Before becoming a fulltime potter in 1996 Bill maintained the Navy's oil spill and salvage equipment at Cheatham Annex for 15 years. They moved to Mathews in 2003 from Gloucester Point where they had their studio for 19 years. They now live in Hallieford where they operate their studio Summer Haze Pottery.
ELISE RITTER is a watercolorist and photographer who lives on the Rappahannock River in Urbanna, VA. You can see her collection of artwork at the website: www.eliserittergallery.com. Her artwork has been juried into the Rappahannock Art League, in Kilmarnock; the Yates House Gallery, in Deltaville; and The Art Group Gallery in Mathews. Her prints and cards are featured at Papeterie, in Urbanna, and The Tides Inn, in Irvington. She is a member of the Middlesex Art Guild, and the Arlington Artists' Alliance. She tries to incorporate her love of seascapes, nature, and travel into her work. She incorporates unique light and color techniques in her compositions.
JULIE COLBY - For over ten years in a log home beside the sparkling waters Julie's looms can be heard weaving their webs of snuggly warm shawls for winter or rainbow colored light ones for cool evenings. Nearby needle felted fiber bunnies watch . Quite a number of bunnies and shawls are now residing in many other homes and several states. The ladies and gentlemen in the Williamsburg Spinners and Weavers Guild have been such a joy in offering inspiration and mutual encouragement.
JERRY SPANGLER - After 40 years of establishing a successful insurance business, local artist, Jerry Spangler picked up his paint brush and rediscovered his old flame in 1994. He paints most every night in his studio behind his home, transferring his love of the outdoors to his paint brush using oils and pastels. His work can be seen at "Jerry's Gallery" in Deltaville.
LAURA HEYWARD is a mother, artist, teacher and crew. She has been working with small children most of her adult life, which has proven to be surprisingly useful background for racing with her husband. she got her degree in art education at the Maryland Institute College of Art, and her masters from VCU School of the Arts.
GAYLE R. WILSON, a graduate of VCU's noted art school, sculpts her pottery employing rustic pinch, coil and slab techniques. The potter's attention to texture and color both applied and organic, imbedded in her thematic renderings distinguishes this pottery as truly handmade and original. The finished work reflects a piece-by-piece uniqueness often elevating the work from practical to art, at once useful and intriguing.
CAROLYN AUGUST has pursued creative endeavors all her life. Currently she is focused on making pottery and all-natural vegetable oil soaps. She grew up in Kentucky and is the great-great-grandaughter of August Uhl, a potter who came to America from Germany in 1845, and started Uhl Pottery in southern Indiana. Carolyn is also a singer-songwriter and performs occasionally at local clubs and private parties.
PAMELA WALDRON Communications Technician with AT&T for 28 years. She retired 4 years ago and moved to Hartfield, VA. She received an AA Degree in Fine Arts from NOVA in Northern Virginia. Pam has exhibited at Pat's Gallery, Rapahanock Art League, and many of the Art Shows in Middlesex County. Pam works in Watercolor for the most part, but loves to do pencil drawings of Dogs, and Cats for friends and on commission. She has been taking watercolor, and drawing classes from Kathy Noffsinger for 4 years. Her favorite things to paint are Butterflies, her dog Trixie, and cat Whiskers.
TOM BLUNT Born in Richmond, Va. in 1948, award winning self-taught artist he creates "art with an attitude" that "don't match the sofa." When he is not creating art, he works as a day laborer, gardener, and caterer. He has never seen a vision, but is always open to a new experience. Known for his whimsical style and intense use of colors, he works with acrylics on carved wood and found objects. His work is non-conforming and highly personal and as Tom says, "My work has only one purpose—to put a smile on your face." The cheerful results are found in galleries all along the East Coast, at Folk Art shows, and in private collections in the United States, the Caribbean, and Europe.
RITA D'AMICO After teaching art for over 30 years, I moved to Mathews to live out a life-long dream--to live on the water and to create my own art works. Working out of my new studio on Chapel Creek, I established Chapel Creek Pottery and Crafts. I also teach classes through the Bay School of the Arts. I find inspiration for most of my pieces from the plants, birds, animals and sea creatures that also make their home near and on the waters of the Chesapeake Bay. Though I make jewelry and other craft items, the majority of my work is done with stoneware clay which I fire and glaze at very high temperatures for use in functional pieces and which I can also use at lower temperatures to create my Raku sculptures and pottery. My work can be found in many galleries and shops in the Middle Peninsula area including in Mathews at The Gallery on Main Street, The South Winds Cafe, and Blue Heron Gifts, in Yorktown at the York Hall Gallery and the Watermen's Museum Gift Shop, and in Richmond at the Glenn Allen Glass I also exhibit and have received special recognition in regional festivals and shows including Art on the Half Shell in Urbanna and The Mathews Art Group's exhibit during the Mathews Market Days Festival.
DEBBIE ABBE recently relocated to the Deltaville area. Her primary interest is in stained glass, with a passion for creating Tiffany Reproduction Lamp Shades. This media and other creative works can be found at her studio on Honeysuckle Lane. (804) 776-0189.
BEV HARDIN A native of Middlesex County, Bev Hardin has always loved jewelry. Several years ago Bev and her daughter, Molley, started making jewelry for fun. Since that time jewelry- making has become a passion for Bev. Using gemstones, glass beads and sterling silver her unique designs offer something for everyone.
BLANCHE SCHARF has been designing jewelry since 2002. Each piece is unique, whether its PMC silver, polymer clay, needle-woven or assembled. She has earned awards in the National Arts Program in Middlesex in 2004 and 2005 and in the Wearable Art Show at Bay School Cultural Arts Center in 2004 and 2005. In 2004, she opened the Yates House Fine Art and Craft Gallery in Deltaville with her husband, Len. Scharf earned her first level certification in Precious Metal Clay in October, 2005 and the Level II certification in May, 2006.
WARREN ROBINSON - Spending more than twenty years at sea, Warren passed many long hours building model ships and small craft. Today, his primary focus is creating reproductions of workboats found along the Chesapeake Bay during the late eighteen and early nineteen hundreds.
ROCHELLA COOPER has been involved with the art community of Houston Texas for 30 years, and now lives permanently in Hartfield Virginia. She has exhibited her fiber sculptures in the Watson d'Nagy Gallery, Houston/New York, been accepted into the Venice Biennale 1978, won numerous awards for her work as a community volunteer and businesswoman. Recently discovering the ethereal qualities of silk she has developed a unique technique of cutting, fusing and wrapping glass to create one of a kind jewelry pieces."