FBYC and the Leukemia & Lymphoma Society Present Tucker Thompson on February 20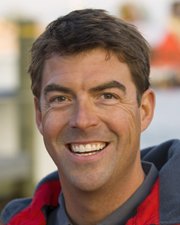 The Leukemia & Lymphoma Society and the Fishing Bay Yacht Club Winter Program Series will again team up to kick-off the 11th Southern Chesapeake Leukemia Cup season with an appearance in Richmond by Tucker Thompson, accomplished Annapolis sailor, internet media entrepreneur, and partner in T2 Productions that produces videos of popular sailing events and related topics.
Thompson is well known for his work with t2p.tv, a full service video production company that has been operating since 2000. t2p.tv has become the complete source for on air coverage of sailing. From major regattas throughout the US and Caribbean to sailing destinations, to the sailors, the boats and the sport, t2p.tv covers it all and provides the on-demand online broadcasts.
His exciting presentation will be held at 7 pm, February 20, at Dominion Resources Auditorium in Innsbrook Office Park, 5000 Dominion Blvd, Glen Allen, Virginia. Admission: $20 advanced tickets, $25 at the door, and $15 students. There will be a cash bar and light Hors D'eouvres. The public is invited to attend and all proceeds after expenses will benefit the Leukemia & Lymphoma Society. Advance registration is available on line at www.fbyc.net.