OPEN HOUSE REGATTA AND PICKIN' PARTY (racers: scroll down for Notice of Race)
Saturday, MAY 24, 2014
1st annual
OPEN HOUSE REGATTA PARTY
Online dinner registration is closed, please contact Caroline Garrett at cgarrett17 at gmail.com or call 703-201-0508 to see if there are additional spots left. Tickets can still be purchased to join the post-dinner Bluegrass band and party onsite Saturday evening.
Starting around 2pm
Start your Memorial Weekend festivities with your fellow club members in a fun-filled day of racing, camaraderie, music, and summer-inspired food.
Around 2pm Congregate on the Fishing Bay hillside and pier to watch the sailboats finish racing right off the dock.
2 - 4:30pm Sunflower Raft Up New activity for the club! Sailboats will form a circle raft-up for an apres-race social gathering, not far from the Fishing Bay pier.
Watch from the dock or take a motorboat shuttle for a closer view of the formation of the raft-up. Beer, wine, non-alcoholic beverages, and snacks will be provided on board a boat within the raft-up. Kid-friendly event.
Both racing and cruising sailboats are encouraged to participate. All spectators on land are encouraged to take the shuttle to the raft-up.
4:30 - 6:30pm Raft-up breaks up
5:00 - 6:30pm Drinks on shore
6:30 - 8:30 pm Pig-Pickin' BBQ on land. - Fresh BBQ Pork and chicken, Summer Pasta Salad, Berry Parfaits
Register here for dinner and band
7-10pm Bluegrass Band, Jackass Flats, a Virginia favorite
---------------------------------------------------------------------------------------------------------------
The Vice Commodore would like to welcome you to the Open House Regatta:
"Sail fast, have fun, bring a friend, and enjoy the party!"
RACE INFO:
DESCRIPTION - OFFSHORE AND ONE DESIGN BOATS ARE WELCOME. The Open House Regatta is a handicap race open to any boat with a Portsmouth Yardstick D-PN Handicap rating or PHRF rating. There will be a start for boats under 22' which will be scored with Portsmouth Yardstick D-PN Handicap System (juniors sailing Lasers and 420s are welcome). There will be a separate start for boats 22' and over. PHRF ratings may be converted to D-PN Handicap at the discretion of PRO. All boats over 22' should have either a recognized Portsmouth Rating or PHRF rating. PHRF conversion D-PN = ( PHRF / 6 ) + 55; PHRF = ( D-PN − 55 ) × 6. Advance registration is encouraged at www.fbyc.net.
JUNIORS We hope to see lots of juniors out! There will be an Opti course set in Fishing Bay. Same program as below. Older juniors sailing Lasers and 420s are welcome in the Portsmouth handicap race with the other one-design boats. This is a low-key (fun!) middle-distance race in the Piankatank. If you've never raced around government marks, this is a great time to try it. Contact Mark Hayes for questions.
PROGRAM
Registration 0900
Skippers Meeting 1000
Warning Signal 1100
Followed by raft-up, refreshments, dinner, band, and awards
COURSES The course will be one of the courses described below using government marks in the Piankatank River and Piankatank Channel: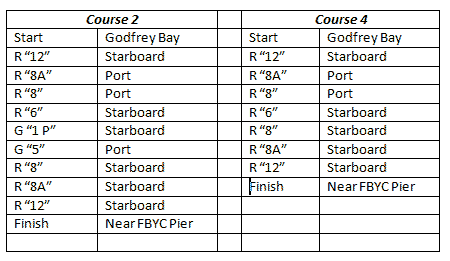 The start times for the fleets are as follows:

<22 foot fleet scratch boat start will be signaled at 1115 using the #4 pennant. (This is the time the slowest boat of this fleet crosses the line)
+22 foot fleet scratch boat start will be signaled at 1130 using the #2 pennant. (This is the time that the slowest boat of this fleet crosses the line)
TIME LIMIT If one boat finishes within 4 hours from the start, the race will be valid for all racers.
AWARDS described in the Sailing Instructions.