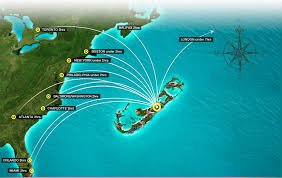 Bermuda Hi Party Set for March 14 in Richmond
Does your trip to our annual Bermuda Hi Party have you slogging upwind on Interstate 95?  Or maybe its a nice broad reach down US 64?  Whatever your starting point, all courses to this year's Bermuda Hi Party lead to the finish line at our new venue:
Cornerstone Architects
23 West Broad Street
Richmond, VA
6-9 P.M.
We've got a great, centrally-located venue that's convenient for as many members as possible.  Expect to see loads of artwork in the entryway gallery as you make your way back to our party space. There will be plenty of heavy hors d'oeurves and, of course, Dark 'n Stormies.  Cost is $10 per member, but as a special opportunity, you can invite a prospective new member for FREE.  Just email event chair Jerry Latell at jerry@latellsails.com with their names and emails and we'll add them to the list!
We'll also have our own Mike Dale providing music to liven-up the crowd.  (Not that an FBYC crowd needs help to get lively!)
Please email Jerry if you can help set-up, serve drinks or clean-up.   No socks required; we're not burning any just yet!