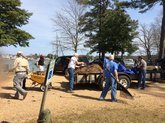 2020 Spring Clean-Up Day
March 21, 2020  9 A.M.
Come and help your club spruce up for Opening Day and the 2020 sailing season.  Lunch will be provided, so work up an appetite raking, spreading mulch or whatever you feel called to do!  For more information email Steve Montgomery at:  monty1221@icloud.com.