Brian Ankrom on Saturday October 7, 2017 01:07PM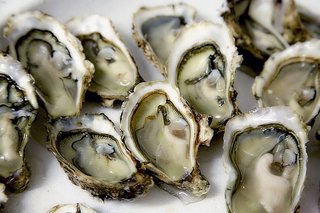 The now famous FBYC Closing Day Regatta Oyster Roast happens again on Saturday, November 4, 2017
All are invited to this signature fall event!  Enjoy fresh Virginia oysters prepared a variety of ways:  roasted, on the half shell and various special Rockefellers prepared by some of the Club's finest foodies!  We'll also have ice cold keg beer.  To add a festive picnic atmosphere we ask that all attendees bring a dish to share—side dish, salad, dessert—whatever!  We'll also have kiddie food for the little ones.
We are keeping the event tickets to an affordable cost—only $7 for members and $10 for non-members.  Kids under 6 eat free.  Tickets cover the oysters, the covered dishes, sodas, beer and wine.  Later, we'll have a Cash Bar where we will offer Dark & Stormies and Vodka drinks for $5 each.  Doors open at 4 pm.  Cash Bar opens at 5 pm.
But wait—there's more!  This year you can enjoy eating and imbibing while being entertained by the Club's own Mike Dale strumming his memorable tunes.  Mike adds an especially nice touch to this year's Oyster Roast Event!
Don't miss it!!
Contact Geoff or Allene Cahill for questions.  Go online to register and buy your event tickets and drink tickets.