Jon Deutsch on Sunday October 14, 2018 10:04PM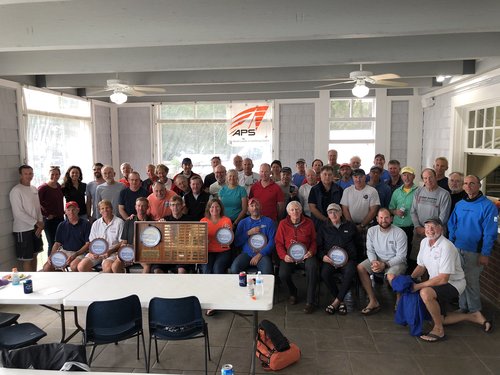 Fifty-One Lasers were in Deltaville at Fishing Bay Yacht Club for the Laser Masters Atlantic Coast Championship this weekend where Rob Hallawell (USSCMC) won the overall title.  Thursday night the remnants of Hurricane Michael roared through eastern Virginia knocking boats down in the dry sail area and leaving the club without power until Sunday morning. With some ingenuity, creativity and resourcefulness from Brian Akram, Eric, Mayo Tabb and Bob Fleck – generators were wired into the critical systems to inflate marks, lower boat lifts, refrigerate food, power kitchen appliances, light the bathrooms and power the water system.
The sailors were undeterred by the lack of lights, cold showers, no running water in residences they were staying at and not a single sailor missed the event.  The volunteers too were committed to make this a great weekend and many delayed cleaning up their own storm messes to be here this weekend and all of the competitors were very grateful they could be here.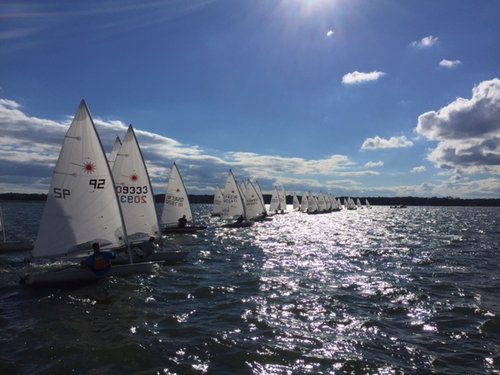 The fleet was greeted on the race course by more wind than was forecast which made for some spirited sailing – especially for those who opted for a bigger rig than they may have preferred for the conditions. 5 races were sailed and Rob Hallawell rose to the top of the leaderboard with first and seconds in 4 of the races. Races were also won by Fishing Bay Yacht Club's Charlie Brewer, Severn Sailing Association's Scott Williamson and Paul Clifford from Toronto, Ontario.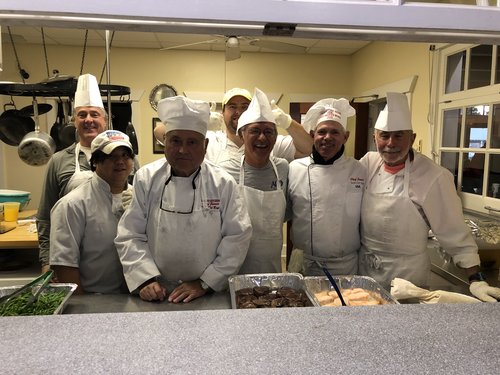 Saturday night Alain Vincey and his team of chefs put on a magnificent dinner of filet filet mignon, salmon, potatoes and green beans with apple pie and ice cream for dessert. Making it an even greater feat was not having full use of the kitchen while only 1/3 of the clubhouse was able to be powered by generator. All 93 sailors, volunteers and dinner guest left satisfied.  Some sailors also left dinner with some great prizes from Dynamic Dollies and Annapolis Performance Sailing.
Sunday's wind played out almost as forecast – starting light and getting lighter. Racing was started on time after shifting the course a few time as the wind settled in. The shifts, current and more shifts made for a challenging and trying race. David Waiting from Severn Sailing Association prevailed, and the last 4 boats missed the time limit. With a fickle breeze and some long trips home ahead – racing was done for the day.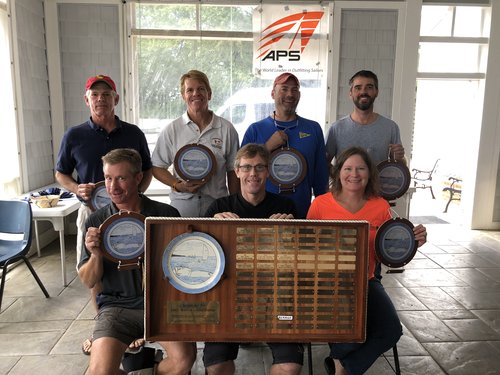 Congratulations to Rob Hallawell on winning the overall Laser Masters Atlantic Coast Championship and the Chesapeake Bay Laser Masters Championship – the latter of which Rob also won last year.
A big thanks to all of the staff and volunteers who got the club back in shape Friday for the regatta. Thanks to our PRO Rick Klein and his race committee team of Alex Alvis, Brad Miller, David Clark, Debbie Cycotte, Donna Alvis, Joe Nelson, John Wake, John Kalinowski, Paul Almany, Ruthanna Jenkins, Sharon Bauer and Mosby West.
Thanks to our sponsors: Dynamic Dollies and APS. And finally thanks to all of the sailor who come back year after year and make this regatta a fall tradition.
Winners:
Overall Winner: Rob Hallawell, US Sailing Center Martin County
1st Woman: Dorian Haldeman, Severn Sailing Association
1st Great Grand Master: Lindsay Hewett, Cold Spring Harbor Boat Club
2nd Great Grand Master: Jacques Kerrest, Potomac River Sailing Association
1st Grand Master: James Jacob, Severn Sailing Association
2nd Grand Master: Charlie Brewer, Fishing Bay Yacht Club
1st Master: Rob Hallawell, US Sailing Center Martin County
2nd Master: Gavin O'Hare, Eastport Yacht Club
1st Apprentice Master: Scott Williamson, Severn Sailing Association
2nd Apprentice Master: David Waiting, Severn Sailing Association
Full results: https://www.fbyc.net/events/2018/181013-onedesign-chesapeake-bay-laser-masters-championship/2018CBLMC-Final-Results/