catesby jones on Friday March 21, 2003 12:30AM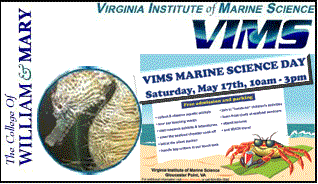 Cruise, socialize, learn and contribute to preserving and enhancing our wonderful Chesapeake Bay…that's a winning combination. VIMS will host its annual open house from 10 am-3 pm on Saturday, May 17th and is supporting a raft-up rendezvous in conjunction with this event. This is a worth-while organization and should be an excellent outing for FBYC members to cruise down to or even go by car.
This year's event promises to be the best ever, with numerous hands-on activities for both children and adults. Activities include tours of laboratories and the teaching marsh, a seafood chowder cook-off, a spin-casting game for young anglers, and much more.
Arrive by 15:00 hours on Saturday, May 17th. Let them know your plans and they will help arrange dockage at either the VIMS Boat Basin or York River Yacht Haven. There is also room in Sarah Creek in close proximity to the Yacht Haven. Transportation can be provided from Yacht Haven to VIMS. Gather at 16:00 for check-in, food, drinks and entertainment. VIMS will provide tours and activities for adults and children . (These events will be open to Yacht Clubs only). On Sunday enjoy coffer and Danish, plan for 2004 and depart for home. You can download the PDF version of their brochure from this site. Click on the PDF attachment.
The VIMS School of Marine Science (SMS) is the professional graduate school in marine science for the College of William & Mary. It has a three-part mission to conduct interdisciplinary research in coastal ocean and estuarine science, educate students and citizens, and provide advisory service to policy makers, industry, and the public. You can learn all about it on the VIMS website
Photo Credits: Willliam & Mary Logo, VIMS Logo, pictures of marine life: William & Mary-VIMS website-http://www.vims.edu; Composite graphic and animation: Steve Gillispie