Karen Soule on Tuesday December 17, 2019 08:46PM
For the past nine years, many FBYC members have relied on the folks at Cafe By The Bay for breakfasts, lunches and welcoming smiles.  When we learned owners Debbie Wilhelm and Susan Smith were selling their business, many sailors were wondering where we would grab a great sandwich. 7 Eleven perhaps?  Well, perhaps no.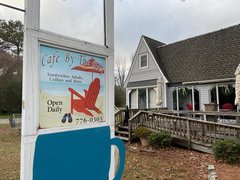 But the good news is that new owners will reopen after the first of the year.  And the goodwill that Debbie and Susan created all this time will continue.  The ladies say thank you to everyone at Fishing Bay, who were first customers and then friends, for supporting their business.  Their last day open will be Dec. 20 so if you are in town, be sure to stop in and send them best wishes from FBYC.