Aaron Sutten on Tuesday May 9, 2023 06:44PM
Spring offshore racing finale promises Great Sailing,
Food, Fun and Friends!
The Offshore Spring Open Race is two days of back-to-back races open to everyone from A-fleet to Cruising class!
This includes all FBYC club member and non-member boats, interested in racing their sailboat and developing their sailing skills. The races are Saturday and Sunday with awards for each day of racing. Dinner Saturday includes Paul Wash's traditional smoked pork butts and fixings. Don't miss this chance to test your mettle sailing in a fantastic venue with great food and camaraderie.
Dinner will start at 6:30 PM.
Menu:
- Pork Butt
- Mac n' Cheese
- Beans
- Cole Slaw
- Pound Cake
- Rum Cake
Register here at Regatta Network
These are some of the first of 140 lbs of butt to go on the smokers...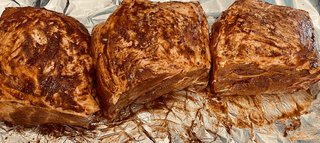 Tags: grill, Sailing, events, Offshore race, Race, openhouse