Joe Nelson on Thursday April 30, 2020 01:47PM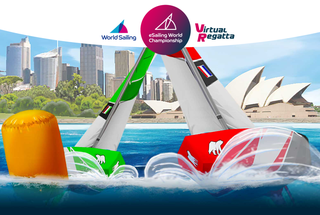 We don't care about no stinkin' virus!
You can virtually become a great racer. We are starting programs at Fishing Bay and Hampton Yacht Club has offered folks at Fishing Bay the opportunity to join their e-racing program that will run on Wednesday evenings in May. This past month they hosted the Corona Series and it was a great success with over 80 people participating. So if you want to start sailing on-line sign up.
Send Joe Nelson a note expressing your interest by clicking here.
Once you have done that you will need to do a few preliminary things which Joe can detail. You will need to sign up at no cost on Virtual Regatta Inshore and run through their training. After you watch some brief videos made by HYC, you are ready to let their sailing director know that you would like to join. They would love to have some cannon fodder on the course.
In the meantime we are launching our own program and hope to roll it out next week to the One Design sailors.  The Young Adult Member (YAM) group are also considering a program of their own.  If there is additional interest we can expand from there.
So, sharpen up your sailing skills and START E-RACING. Loads of Fun!