Strother Scott on Friday September 15, 2017 08:26PM
We have begun the process of switching our Home Page.  Beginning tomorrow, when you visit www.fbyc.net you will no longer see a familiar site.  Instead, we have an entirely new look, much less cluttered, and with a slide show at the top featuring upcoming big events or other matters of interest.  During the year the slide show will be changed, to emphasize what is upcoming or important at FBYC. 
As part of the switch, we also are switching from Zope, which is old technology, to much newer modern systems, with a Django framework and a Wagtail Content Management System. 
The home page will look like this image.  Below the slide show will be the News Feed on the left, and links to the Next 10 Events on the right.  Below Events are links to Recent Results and pictures.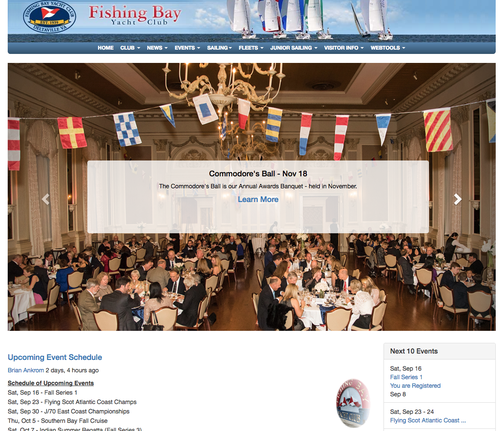 On mobile devices, the menu, image sizes and layout respond to the browser sizes.  On small browsers, the little burgee in the top left corner is a link to the new Home Page. 
Expect some problems with bad links and let me know about any issues.  Hopefully the switch will be easy. 
Prior links to news articles posted on Facebook or Twitter include "new" instead of "www" in the URL might now fail, but Eugene has coded them to redirect to the current page. 
Tags: website