Bob Kates on Friday July 11, 2003 11:54AM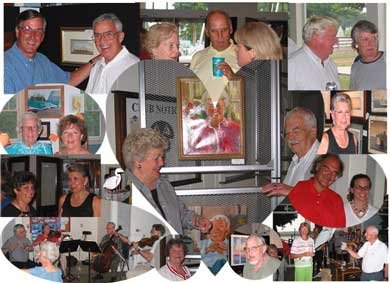 Over 200 FBYC members and guests attended the 2003 Art on Fishing Bay held July 9th at Fishing Bay Yacht Club. This year's event was held in conjunction with the Leukemia & Lymphoma Society as a fundraiser. Fifteen artists exhibited their works; among them eight were FBYC members or had past association with the club. Each artist donated a piece of their work for the Silent Auction held on July 11th.
Francis Church and the Bellevue Square Quartet performed throughout the evening for our enjoyment. Hors d'oeurves were brought by many that attended and enjoyed by everyone. What was billed as an Art Show & Sale turned out to be a splendid "Art Party" and fundraiser for the Leukemia & Lymphoma Society. Everyone is looking forward to next year's event.
Exhibiting Artists were: Kathleen Noffsinger, Rita D'amico, Guy Crittenden, Jane Hall, Dixie Hoggan, Rip Radcliffe, Kate Halsey Smith, Jane McCullough Wells, John Sharp, Sr., Joan Mannell, Ben Richardson, Ann Lawman, Audrey Wright, Rudi Winebrenner and Megan Robertson.