Jon Deutsch on Wednesday October 21, 2020 09:56PM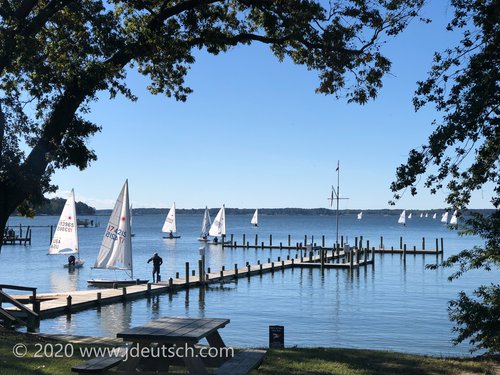 Hurricanes, high tides, power outages have not stopped the Chesapeake Bay Laser Masters before, and neither would a global pandemic this year. The event looked a little different on shore and the social and dinner was a little subdued with social distancing and other precautions in place to keep everyone safe. Fortunately for single-handed sailing – the social distancing was only briefly violated at a few mark roundings and most violated was the weather mark itself.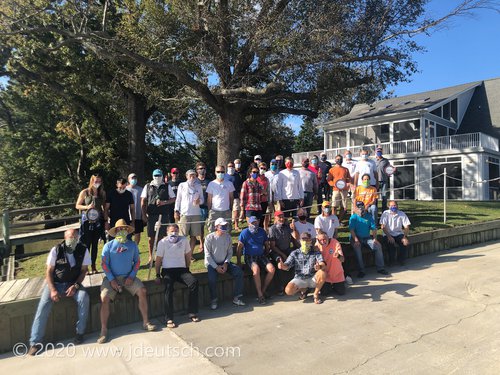 The sailing was as good as it's ever been – the fleet was greeted with 16-20 knots of wind out of the NNE and had a blast sailing in the slightly shifty condition and flat water on the far side of the river in Godfrey Bay. The Race Committee led by Rick Klein did a fantastic job adjusting the racing course and keeping the course and line square through all 5 races.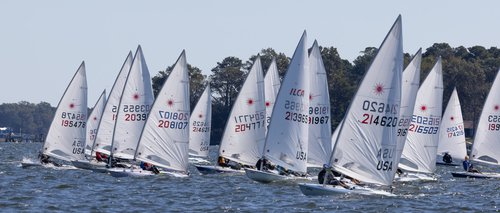 James Jacob (SSA), Scott Williamson (SSA) and Jon Deutsch (FBYC) had strong starts going 1-2-3 in the first two races and Scott continued his streak with a bullet and two more 3rds in 5 races. David Waiting (SSA), Bob Tan (SSA) and Don Hahl (BBYC) also had great races to put themselves at the top of the fleet.
With plenty of wind there were definitely some breakdowns and early retirements. Chris Chadwick earned the admiration of the fleet for dropping out of a race to help a sailor who had difficulty righting his boat. At the awards ceremony (and impromptu redress hearing) the fleet unanimously agreed to give him redress in place of the DNF.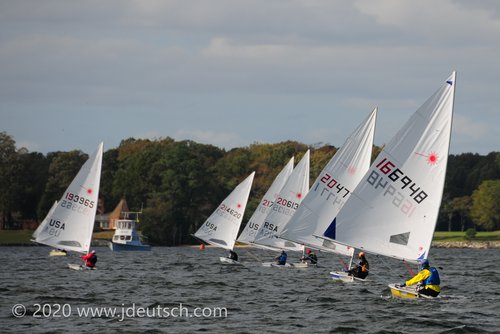 Saturday evening's dinner was a little subdued with slightly chilly outdoor and social distanced eating, but it was still a fun time and Alain Vincey put on another wonderful dinner.
Sunday brought a little less wind, and 3 races were run in 8-12 out of the east. Dave Waiting (SSA), David Hartman and Bob Tan (SSA) all won races.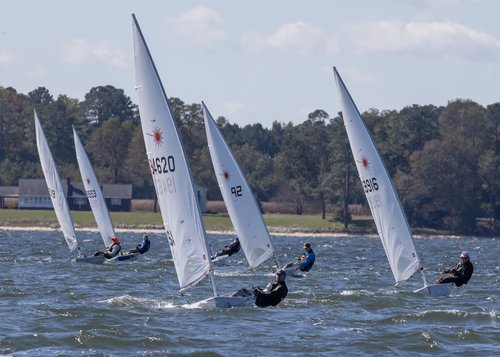 Thanks again to all of the sailors who made the trip and for rolling with all of the safety changes and social distancing. Congratulations to James Jacob on winning this regatta for a record 6th time.  Huge thanks to the RC for a superbly run set of races - Rick Klein, David Lee, Sharon Bauer, Alex Alvis, Donna Alvis, Mike Dale, Jim Raper, John Wake, Sharon Wake, Paul Almany, David Hinckle, Veronica Hinkle, Emily Hinckle
Overall Winner: James Jacob, Severn Sailing Association
1st Woman: Natalie Burls, Severn Sailing Association
1st Great Grand Master: Don Hahl, Brant Beach Yacht Club
2nd Great Grand Master: Tim Landt, St. Petersburg Yacht Club
1st Grand Master: James Jacob, Severn Sailing Association
2nd Grand Master: Bob Tan, Severn Sailing Association
1st Master: Gavin O'Hare, Eastport Yacht Club
2nd Master: Jeff Moore, Southern Maryland Sailing Association
1st Apprentice Master: Scott Williamson, Severn Sailing Association
2nd Apprentice Master: David Waiting, Severn Sailing Association