Jon Deutsch on Tuesday April 20, 2021 08:54PM
Our 2021 Schedule is posted and here are some highlights for ILCA Dinghy/Laser Sailing to put on your calendar for this year.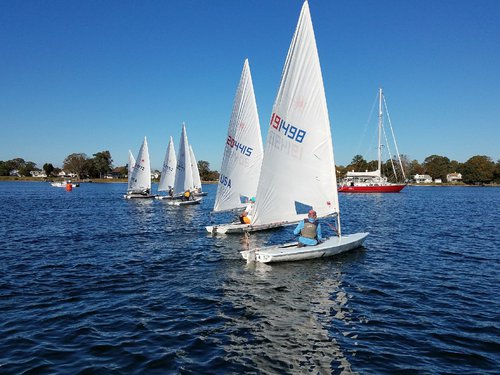 Club Series - these are 5 single day events spread throughout the year that count towards the season series using the high point system. Anyone who sails in 50% of the races held qualifies for the series.  Some of these race days are sailed during one design events with the Flying Scots, and other days will be stand alone days.  We'll run a Radial fleet and radial series on the days we have enough boats.  There's no entry fee and first warning times vary depending on the day.
Junior Regatta - FBYC hosts a 2-day invitational Junior Regatta that is well attended by juniors from around the bay and beyond. The Radial fleet is quite competitive and features a who's who of bay Radial sailors.
Distance Races - There are two distance races open to Laser/ILCA Dinghy. These sail mostly government mark courses and typically take 2-3 hours. They are a lot of fun to be on the course and racing against mostly bigger boats.
Annual One Design Regatta - this is a two day multi-class regatta that typically features starts for Radials and Standards. Saturday night expect food and entertainment.
Masters - Our Chesapeake Bay Laser Masters is an annual masters (35+) event that will be celebrating its 40th year. This is one of the premiere events for masters sailors on the Chesapeake Bay and regularly sees fleets of 40+ boats hailing from as many as 8-10 hours drive time away. This not-to-be missed event features Alain Vincey's amazing cooking, great race committee and is an event sailors return to year after year.
Training - Mike Toms puts on a training session open to experienced or inexperienced Laser Sailors including those wanting to try this kind of boat.
Events Elsewhere - beyond FBYC there are a number of other events around the Bay and beyond that are just a short drive. The complete schedule is on the D11 webpage: https://laserdistrict11.wordpress.com/2021-events/
Got questions about any of these events?  Drop me an email.