Karen Soule on Wednesday December 30, 2020 07:45AM
Jim is currently FBYC's Long Range Planning Committee Chair.  He's as colorful off the water as his boat is on.  Here's his story: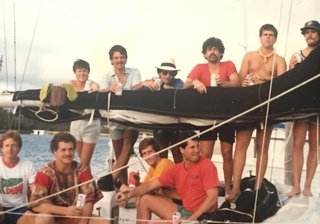 "It all began in 1983 when a group of us at Virginia Tech decided to charter a sailboat for spring break.  One of us had some experience so our band of misfits sailed a Morgan 44 OI to Bimini in the Bahamas. (Can anyone ID Jim in this photo?)  It was my first sailing experience of any kind.  It's amazing how much beer fit under the settees in that boat,  Some years later, I bought my first boat in 1990, a 27' Jeanneau Fantasia with the intent of family sailing and didn't think about racing until Brooks Zerkel suggested that I might like it. Then we bought the former Elancer, and after a few minor cosmetic repairs, renamed her Rhapsody and have raced her since.  We've participated in all of the club events and others including Down the Bay, Southern Bay Race Week, the inaugural Summer Solstice Ocean Race, The Gaboon, The Dana Dillon Madness Race, and several Governor's Cup events.
"My adult daughters, Emily and Jaclyn, are the very best that a father could hope for.  They both enjoy sailing as long as it's warm, the sun is shining, the wind is under 10 knots.  Recently,  Patrice joined the program to support my love of all things sailing.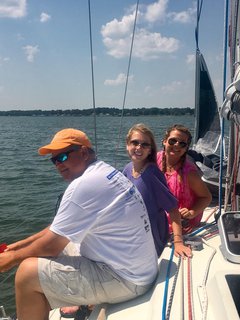 "When we race, the Red Boat crew includes Matson Roberts at the mast; John Hoar, formerly with Wavelength on the foredeck; Earl Motley on main; Tom Lee and Ken Anderson on the headsail and Joanna Tyka and Katie Yudkin on spinnaker.  These guys are fantastic and really are the heart of our racing program. I just hold the round thing and do my best to keep the course straight.  We have a great time, enjoy being on the water together and don't always wait for the first mark for refreshments."